Afghan businessman keeps a USD 20,000 lion as a pet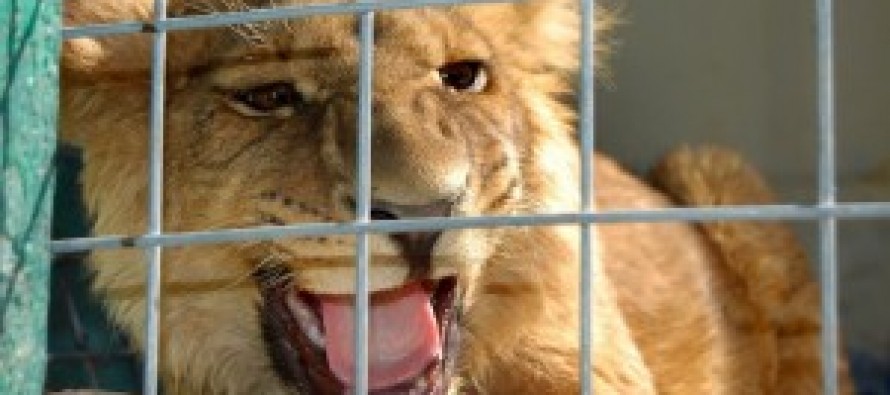 In Afghanistan, wealth becomes conspicuous by the presence of body guards, SUVs and lavish houses.
One Afghan businessman, owner of a construction company, has taken his flashy lifestyle a step further by keeping a USD 20,000 lion cub as a pet. The pet is kept on the rooftop of a building in Taimani, surrounded by high walls and fences, and is fed every day by an attendant who throws it raw meat. (Agence France-Presse)
Mohammad Shafiq is proud of his pet that he bought immediately he was offered by a friend.
"I had seen lions on television and in the zoo, but never this close. So without any hesitation, I said I will buy it. To me, lions are brave and I respect them. Knowing I could buy one was very exciting," Agence France Presse quotes Mr. Shafiq.
Mr. Shafiq said he has hired a caretaker for USD 1,000 a month to feed the lion fresh meat from a butcher and also pays a vet to check its health regularly.
The 42-year old businessman accumulated much of its wealth right after the fall of Taliban when Afghanistan's economy was flooded with construction tenders.
Mr. Shafiq has received criticism from wildlife director at the World Society for the Protection of Animals, Claire McMaster, warning that any captive lion posed a serious threat to human life.
"Wild animals should not be kept as pets as it is cruel to hold them in captivity and confined away from their natural habitat, especially as owners are unlikely to meet their complex needs," she told Agence France Presse.
"The other problem with keeping a wild animal as a pet is that unlike domesticated animals, the size and unpredictable behavior could lead to serious injury or death to the owner."  (Agence France Presse)
For now Shafiq is happy with his pet and is willing to donate it to Kabul Zoo, if one day he is unable to look after it.
---
---
Related Articles
Since the beginning of March, more than 125 electrical engineers from various line departments in the provinces Badakhshan, Baghlan, Balkh,
According to a recent report by the World Bank, it is easier to start a business in Afghanistan than in
Norway's Prime Minister Jens Stoltenberg pledged USD 125 million per annum towards Afghanistan's reconstruction efforts and another USD 25 million