Afghan businessmen at Kabul's Mandawi are exempted of tax for the next four years- Minister Ahadi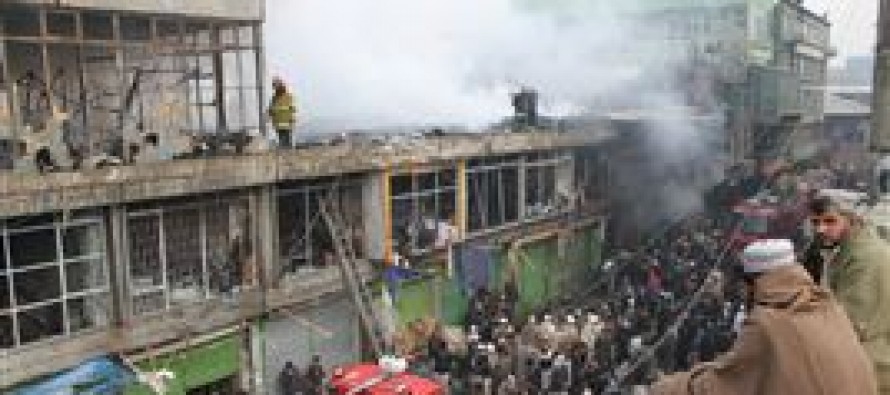 Minister of Commerce and Industries Anwarul Haq Ahadi announced on Monday that shopkeepers who were inflicted with losses caused by fire at Kabul's Mandawi are exempted of taxes for the next four years.
"In addition to tax exemption, the government will also pay the shopkeepers some loans in the near future, "said Minister Ahadi after visiting the site.
Minister Ahadi said the decision came after discussion with the minister's cabinet.
A fire that engulfed overnight in Mandawi, Kabul's main Commercial District, destroyed about 600 stores and inflicted millions of dollars of damage.
According to the Kabul police chief Gen. Mohammad Ayub Salangi, the fire was caused by the shopkeeper neglect and there were no reports of casualties.
The Afghan Chamber of Commerce and Industries-ACCI along with the shopkeepers urged the government to launch a serious investigation of the fire that engulfed about 600 shops in Kabul's main commercial district, Mandawi.
The shopkeepers, who are inflicted with millions of dollars of loss, claimed that the safes in the shops were broken and their money was stolen before the fire breakout.
They also complained about the police's behavior and said that the police would beat them, when they were trying to enter their shops to get their goods out.
"The security forces did not behave like a Muslim or a human being."
"The police would not let us enter our shops during the fire. By the time we made it to the shop, our safes were gone."
"When we arrived and checked our shops, our safe locks were broken."
The shopkeepers also claimed that the fire brigade did not arrive on time.
Kabul Policy HQ Deputy G. Daud Amin said that they arrived at the event on time and that the police did not cause any trouble to the shopkeepers. He further added that no safe was stolen before the fire blaze.
"We used our facilities to help take some of their goods out. Those who have made such allegations against us are opportunistic individuals. I find their accusations baseless."
Meanwhile, Head of the ACCI Mohammad Qurban Haqjo, urged the civil society and Afghan government to assist the sufferers of Mandawi. He also questioned the behavior of the police force and fire fighters at the press conference today in Kabul.
Mr. Haqjo called on the government and investors to consider construction international standards while constructing markets. This is not the first time that fire has swamped Afghan markets. Similar events have taken place in the past as a result of negligence or short circuits, said Mr. Haqjo.
---
---
Related Articles
The prices of dry fruits have doubled as the religious festival of Eid-ul Fitr is drawing closer. Eid-ul-Fitr is a Muslim holiday that
The World Bank approved today a $100 million grant from the International Development Association (IDA) to help the government of
A finance ministry official said on Monday the rejection of the proposed annual budget by the Wolesi Jirgafor a second