Afghan carpets exported under the shadow of Pakistan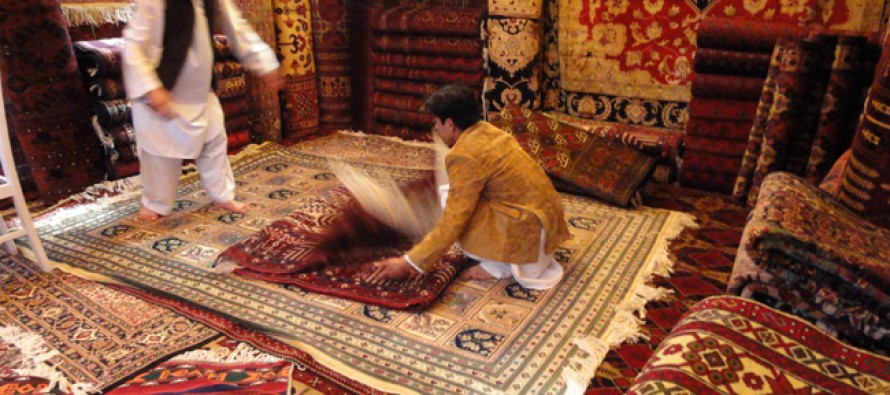 About one million Afghans are involved in the weaving industry in Peshawar, Pakistan buy cheap viagra online uk out of the four million Afghans residing there.
Afghan weavers have chosen to stay in Peshawar, because they can avail from the resources available there to run their business.
However, Pakistani businessmen monopolize their handmade carpets by purchasing them at low prices and exporting them to international markets under Pakistan's name.
Pakistani government generates millions in buy daily cialis revenue from the carpet business.
A number of weavers raised concerns and blamed the government for failing to provide work opportunities for them in Afghanistan.
"In the past 12 years, the Afghan government has done nothing for us, which is why we've chosen to stay here," Tolo News quotes a purchase viagra in uk carpet factory owner in Peshawar, Noor Agha.
Hand-woven carpets—as the largest legal export—are a key component of the Afghan economy.
There are more than one million people employed by the industry, the second largest buy cialis mexico employer in the country behind agriculture.
One in eight families works directly or indirectly in the supply chain of this industry and derives their economic security from hand-woven carpets. From its origins five centuries ago, this product has proven to be a lasting offering to the global market.
In order to maximize the Afghan market-share, industry leaders created the Afghan Carpet Organization for Excellence (ACOFE). The organization provides marketing support, business training, improved buying power, and information on trends in global carpet markets.
A unique characteristic of the industry is that it employs predominantly women as weavers in rural areas. This population has shown a proven trend toward the reinvestment of income into the education and welfare of their families that helps support long-term growth across the economy.
Unlike other commodity markets without distinct quality differentiators, such as agriculture, the carpet industry is able to target high-end and highly discriminating consumers seeking intricate designs. The reputation of Afghanistan as the premier hand-woven carpet producer provides a unique opening to further expand in the global marketplace.
For more information on the hand-woven carpet sector in Afghanistan visit:
http://nhabibyar.wix.com/epaa#!attorneys/galleryPage
https://www.facebook.com/epaa.org.af
---
---
Related Articles
The national Olympics committee has built a new building for Baghlan's Sports Department along with a playing ground and a
Afghanistan Civil Aviation Authority (ACAA) said that Pakistan has promised to re-open its airspace for Afghanistan-India flights on June 14.
The Afghan-Turkey air corridor opened on Tuesday during a special ceremony in the presence of government officials, Turkish ambassador, officials