Afghan cement enterprise begins operations after 20 years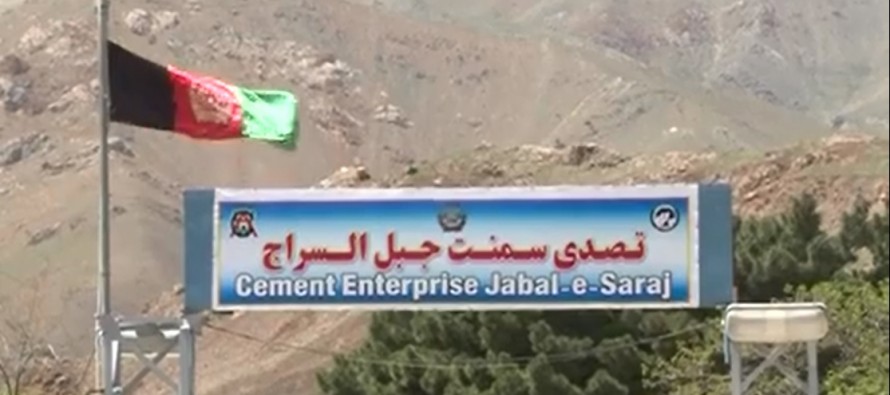 The Jabul Saraj Cement Enterprise has officially begun its operations after 20 years and was inaugurated on Tuesday in the presence of officials from the Ministry of Mines and Petroleum, governor and other representatives from Parwan province.
The factory is re-launched at a total cost of 75mn AFN with financial support from the Afghan Ministry of Mines and Petroleum.
Addressing the inauguration ceremony, Technical Deputy Head of the Ministry Engineer Abdul Qudoos Hamidi said the factory would produce 100 tons of cement (equivalent to two 50-kg bags of cement) on a daily basis.
He added that the factory would be able to produce about 25,000 tons of cement during the solar year, 1395.
According to the factory authorities, the factory generates job opportunities to 120 individuals directly and 5,000 individuals indirectly.
The quality of the cement produced by Jabul Saraj Enterprise is in par with Portland Cement with the mark 450, which is twice as higher as the quality of the cement imported from foreign countries.
Founded in 1337, the Jabul Saraj Enterprise had the capacity to produce 100 tons of cement daily until 1375 and had a significant impact on the economy of Afghanistan.
---
---
Related Articles
Afghan Ministry of Agriculture, Irrigation and Livestock has started promoting saffron cultivation in insecure provinces of Afghanistan in an effort
Former Afghan President Hamid Karzai has established a welfare foundation in Kabul. Addressing the inaugural ceremony in Kabul on Saturday,
Work on the construction of the Afghan-Turkmen-Tajik railway was inaugurated on Wednesday in Asghgabat, capital city of Turkmenistan. Afghan President