Afghan Council of Ministers confer on progress of development projects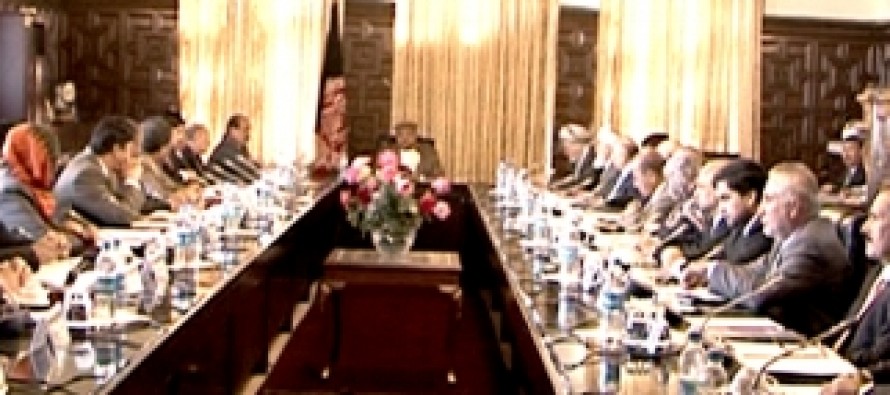 The Afghan Council of Ministers discussed the progress of development projects in the country at a meeting, chaired by Vice President Marshal Mohammad Qasim Fahim, which was held in Gul Khana Palace.
Head of the Economic Committee of the Council, Mohammad Karim Khalili, said that work on 65 development projects had been completed during the current year, and 283 projects were in progress. He added that 260 projects were yet to be executed due to incomplete documents.
He cited insecurity, lengthy procurement process and limited capacities of the contracting companies as the main impeding factors behind the delay in completion of the planned projects.
The Council of Ministers called on the Ministry of Interior to ensure security for the implementation of projects, mainly infrastructural projects, and also urged the concerned ministries to accelerate the procurement and paperwork process of the projects.
A budget of USD 8.08million, presented by the Ministry of Finance, for the Ministries of Agriculture and Refugees and Repatriates and the Kabul Municipality was also approved by the Council of Ministers.
The Ministers also appreciated the achievements of former Governor of Logar, Arsala Jamal, who was martyred on the first day of Eid-ul-Adha, while delivering a speech inside a mosque.
The Council decided to have his salary paid to his families and assigned the Ministry of Information and Culture to name a street after him. It has also been agreed upon to provide a plot of land to his family.
---
---
Related Articles
Herat's fifth agricultural products exhibition was inaugurated on Tuesday with the presence of Herat local officials, farmers and traders. Different
As many as 24 development projects have been completed in Nurgal, Narang and Sarkani districts of Kunar province. Costing 40,455,116
Germany and Denmark have joined hands to fund Afghanistan's first football academy, Grassroots Football, which was opened in Kabul on