Afghan customers can pay their electricity bill through mobile phones now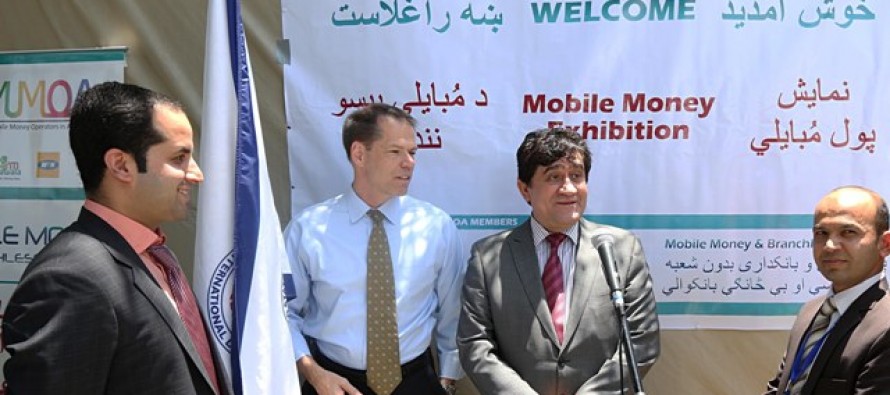 A large crowd of Afghans signed up to use modern technology to pay their bills safely, as delighted Afghan and U.S. officials watched. The event, organized by USAID, was held at the U.S. Embassy.
Customers of the Afghan electric utility company, Da Afghanistan Breshna Sherkat (DABS), gathered at the U.S. Embassy today to watch a demonstration of Mobile Money, a system that allows payment of bills by cell phone. More than 750 customers who come to DABS Head Office every day to pay their electricity bills now can pay their bills using their mobile phones, a service not available in many first- world countries.
"More than 100,000 households in Kabul City who earlier registered under Etisalat's mHawala mobile money service, can now pay their electricity bills through their mobile phones," DABS CEO Abdul Razique Samadi said. "Previously, we only sent paper bills to the consumers but now the bills are also sent to their mobiles phones via SMS, making sure that everyone gets it on time."
An additional 200,000 customers are expected to register in Kabul by the end of the year, and DABS officials say they want to roll the service out to other provinces, including Herat, Balkh, Nangarhar and Kundoz within the next few months.
"The social benefits of this system are enormous for people living in remote areas," explained Larry Sampler, head of the USAID Office of Afghanistan and Pakistan Affairs, who attended the Embassy demonstration. Paying a bill will require only a mobile phone signal, as opposed to traveling long distances to the nearest city, Sampler said. Mobile Money initiatives also reduce the opportunity for corruption by removing the need for cash. USAID support for Mobile Money builds on Afghanistan's commitment to the 'Better Than Cash' initiative, which helps governments move from cash to electronic payments.
"DABS is one of the key supporters of this world-leading initiative, Sampler said. "I'm proud to see how far Afghanistan has come in just a few short years, and see for myself the innovative services Afghan mobile phone companies are providing. Services that are unavailable in most of the western world."
Four Afghan mobile money operators, their partner banks and the Afghan electric utility company, Da Afghanistan Breshna Sherkat (DABS), introduced their mobile services to their customers, enabling them to use their mobile phones to transfer cash, including both person-to-person and person-to- business transactions, and to pay their electricity bills.
---
---
Related Articles
Afghanistan's Minister of Transport and Aviation, Daud Ali Najfi, said Afghanistan may soon gain a membership to the International Road
The Afghanistan Civil Service Institute (ACSI) published two new textbooks for teaching Afghanistan's next generations of civil servants. The books
President Ashraf Ghani has confirmed that the Turkmenistan-Afghanistan-Pakistan-India gas pipeline project would kick off in December 2015. He made these