Afghan defense ministry hails cancellation of Italian planes purchase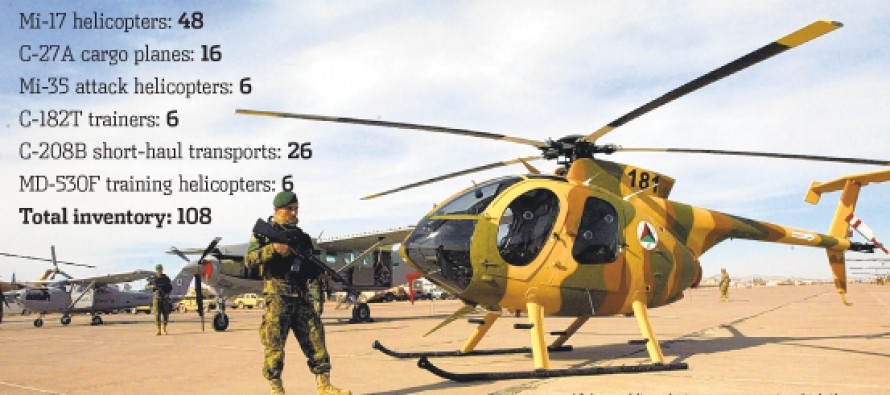 Afghan defense ministry has welcomes the decision of the U.S. on the cancellation of transportation aircraft purchase for the Afghan Air Force through an Italian corporation.
"We are happy and thankful about this decision. The aircraft are not usable by the Afghan Air Force anymore," said Gen. Zahir Azimi spokesman for the ministry.
According to the Wall Street Journal, the U.S. military said it has scrapped plans to equip the Afghan Air Force with a fleet of Italian-made transport planes, a major setback in an effort to build a more self-sufficient Afghan military as U.S.-led forces withdraw.
Ed Gulick, a U.S. Air Force spokesman, said in an emailed statement that the service on Dec. 18 notified Alenia Aermacchi North America, a unit of Italian defense conglomerate Finmeccanica SpA, FNC.MI -0.46% that a contract to maintain and support 20 refurbished transport planes for the Afghan military wouldn't be renewed when it expires in March because Alenia didn't deliver enough flyable planes.
"This decision comes after failed attempts by the contractor to generate a sufficient number of fully mission-capable aircraft that would provide an effective airlift capability for the AAF," Mr. Gulick said. "Though the Air Force assisted Alenia throughout the program in an effort to help the program succeed, Alenia never achieved key contractual requirements."
U.S. and Afghan officials now say the Afghan military isn't expected to have an independent and fully functioning air force until around 2017, well after the withdrawal of most U.S. and international troops. Washington and Kabul are in discussions over a residual U.S. military presence that may remain after 2014, and equipment for the Afghan military is likely to be a subject of those negotiations.
The scrapping of the Alenia contract isn't the only setback in equipping the AAF. The Afghan military is in line to receive a fleet of armed attack planes through a separate U.S.-funded effort. The first of those planes was supposed to be delivered well ahead of the U.S. withdrawal, but that program was delayed by a politically charged U.S. procurement contest, and the U.S. Air Force isn't expected to pick a winning design until early 2013.
For now, U.S. and Afghan officers say the AAF must concentrate on the fundamentals. Afghanistan has low literacy rates, making it difficult to recruit personnel who have the right technical skills to fly or maintain planes. (Wall Street Journal)
---
---
Related Articles
Agriculture department of Herat called on the international community to assist with the development of Afghanistan's agricultural sector, as the
The Ministry of Agriculture, Irrigation, and Livestock (MAIL) announced that dates production in Faraph province have increased by over 50%.
Baghlan Agriculture and Livestock Institute in collaboration with U.S. special forces and GIZ organization distributed USD 30,000 and 256 packages