Afghan economy could grow by 6.5% a year: World Bank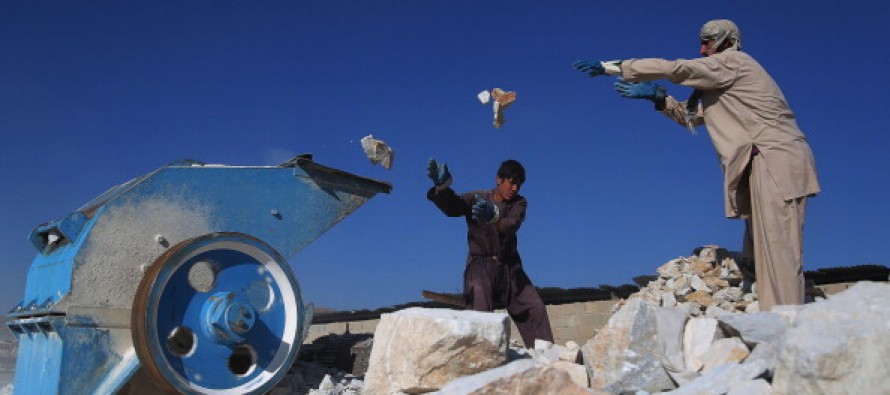 According to World Bank's recently released report, Afghanistan's economy could grow by 6.5% a year between now and 2030, if the country properly uses its resources, mainly in mining and agriculture sectors.
The World Bank has called on the government to enhance its efforts in developing the mining sector to help boost economic growth.
The Afghan Ministry of Mines and Petroleum (MoMP) assures that a proper strategy is in place to attract investment and to use the mines effectively.
Meanwhile, the Ministry of Agriculture said numerous programs have already been launched to boost the sector and increase domestic revenue.
The report says that if domestic produce could eventually replace imported produce if promoted properly.
It further urges the government to improve tax collection system and undertake further measures to attract foreign investment.
Afghanistan's economic recovery remains slow with continuing insecurity curbing private investment and consumer demand. Growth is projected to accelerate slightly from 2.6 percent in 2017 to 3.4 percent in 2018. However, with population growth of nearly 3 percent, such a level of economic growth means minimal income per capita growth. Sustained economic growth requires transforming the economy through better health and education, improved agriculture, and the development of the country's mining resources.
---
Related Articles
The officials of the Dehsabz-Barikab City Development Authoriy (DCDA) said they were ready to kick off the construction of the
A cardiac surgery center for adults has officially opened at the French Medical Institute for Children (FMIC) in Kabul city.
Pakistan International Airlines (PIA) announced that by mid-December they would launch air services between Quetta, capital of Baluchistan, and Kandahar