Afghan education professionals trained in peace education and human rights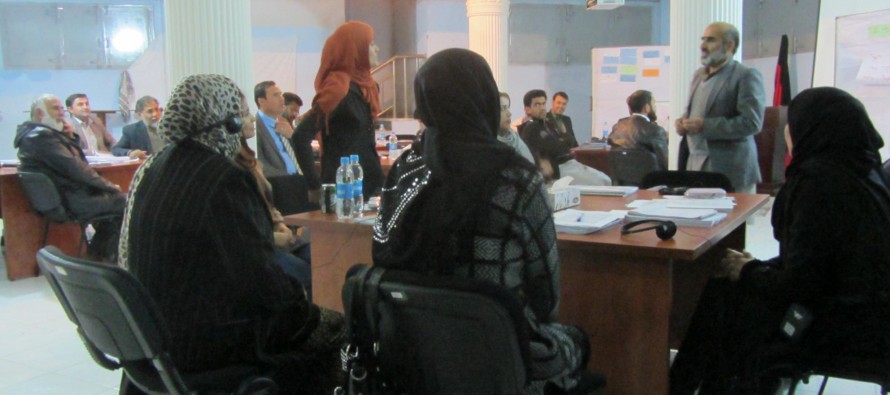 The Teacher Education Directorate (TED) of the Ministry of Education invited a team of dedicated education professionals to take part in a Training of Trainers (ToT) workshop on the newly developed peace education and human rights course for Teacher Training Colleges (TTCs). Previously, this compulsory subject was taught with non-standardized materials. With the support of UNESCO and Afghan-German Cooperation, the TED has developed a course outline, syllabus, and resource materials that will be rolled out nation-wide. A core trainer team will be trained to educate TTC lecturers in all of Afghanistan's provinces in the coming year.
Ms. Pamela Baxter, UNESCO peace education expert, explains that, "Peace education is about more than conflict resolution. Proactive peace education is about building a composite set of skills, values, and attitudes – none of which are new. But it is about putting them together as a constructive set of skills for living with the focus being peace that makes it so important."
The course aims to develop trainee teachers' knowledge, skills, and attitudes of peace education and encourage positive behavior change, enabling teachers to act as role models to their students and contribute to peace building in their classrooms, schools, and communities. The course includes practical pedagogy, classroom management, assessment, and evaluation techniques to support rights-based, inclusive education. These topics will help create an awareness of the need for constructive peace-making skills and develop these skills through creating a culture of peace in schools and classrooms. The long-term goal is to eliminate discrimination, violence and abuse in the class-room and to provide inclusive and child-friendly education. It is therefore important to foster an understanding of the principles of human rights such as respect, equality and dignity.
UNESCO, a specialized agency of the United Nations, supports education, culture, and communication and information in Afghanistan. The UNESCO Education Unit in Kabul works closely with the Government of Afghanistan to support education policy and planning, quality enhancement of instructional materials with a core focus on literacy and skills based training in formal and non-formal education.
Since 2005, BEPA is a joint program of the German Cooperation with Afghanistan implemented by the Deutsche Gesellschaft für Internationale Zusammenarbeit (GIZ) GmbH on behalf of the Ger-man Federal Ministry for Economic Cooperation and Development (BMZ) and the Swiss Development Cooperation (DEZA). Together with the MoE in Kabul and the education departments in the provinces BEPA aims at establishing a sound foundation for teacher training in Afghanistan.
---
---
Related Articles
The Afghan Ministry of Energy and Water has informed that work on construction of Pashdan Dam in Herat province has
Presenting his 100-day plan to the media, Finance Minister Mohammad Eklil Hakimi said his priority was to bolster domestic revenue
Kabul Mayor Mohammad Nawandesh alleged that a group of mafia were involved in impeding the execution of development projects in