Afghan experts, policy makers agreed on encouraging private investment in renewable energy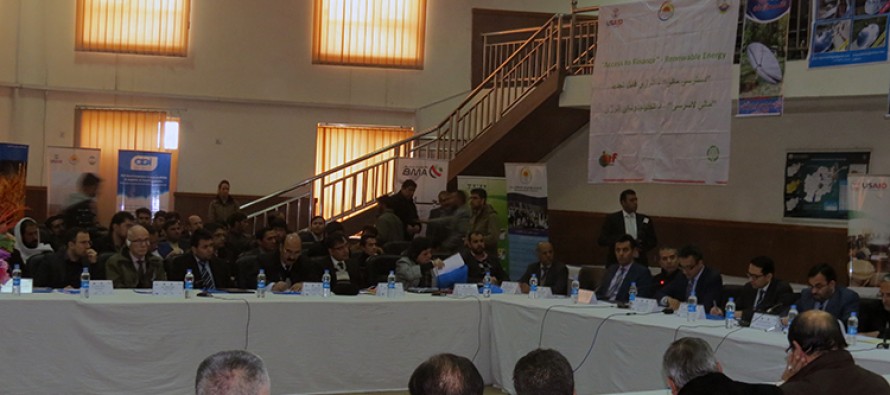 In an ongoing effort to speed up and sustain private investments in the renewable energy sector, the Ministry of Energy and Water (MEW) and the Ministry of Economy (MoEc) on 14th February 2016 held a one-day meeting on "Enabling Private Sector Financing and Investment in the Energy Sector, with a Particular Focus on Renewable Energy".
The meeting was the first event of its kind to bring together representatives from politics, business and finance. In the day of talks, workshops and panel discussions, ministers, stakeholders, decision-makers and financial experts discussed how to remove barriers and attract private long-term investments in the energy sector.
 "The lack of power has consequences for companies and businesses that rely on electricity – most electricity is still being imported. However, Afghanistan's potential for generating its own power is vast. Renewable sources like sun, wind and water could produce up to 300,000 megawatts (MW). Currently, the country only requires 6,000 MW. The excess amount presents great opportunities for profit and export to neighboring countries," said Robert Dilger of Afghan-German cooperation program for "Institutional Development for Energy in Afghanistan" (IDEA).
Government and public sector representatives acknowledged a proper regulatory framework is needed to make it easier for companies to invest. Business owners and investors also discussed how tax cuts can help drive investment in the sector. Despite the challenges of establishing renewable energy in Afghanistan, e.g. security and costs, participants agreed there is great potential, if partners share the risks equally.
Held at the Ministry of Energy and Water, the one-day meeting was supported by the German government and the USAID program "Financial Access for Investing in the Development of Afghanistan" (FAIDA). Participants included Abdul Satar Murad, Minister of Economy; Ali Ahmad Usmai, Minister of the MEW; Qudratullah Dilawari, CEO of DABS; Mr.Qurban Ali Haqjo, Director of the Afghanistan Investment Support Agency (AISA);  and Atiqullah Nusrat, Director of the Afghanistan Chamber of Commerce & Industries (ACCI).
They were joined by representatives of Afghan-German cooperation, USAID, the Afghanistan Micro-finance Association (AMA), Afghan National Standards Authority (ANSA), Afghan commercial banks, the Afghanistan Research and Evaluation Unit (AREU), the World Bank, the Ministry of Rural Rehabilitation and Development (MRRD), the Asian Development Bank (ADB), the National Environmental Protection Agency (NEPA), and policy makers and members of regulatory bodies.
---
---
Related Articles
The High Economic Council approved major contracts for exploration of two mines after a comprehensive review of the contracts during
Afghan and German government representatives officially inaugurated newly built and equipped facilities for the Faculty of Public Policy and Administration
The new Afghan government plans to revive one of Afghanistan's oldest dry ports–Kalfat port. The port is situated in Jawzjan