More Afghan farmers turning to soybean to fight malnutrition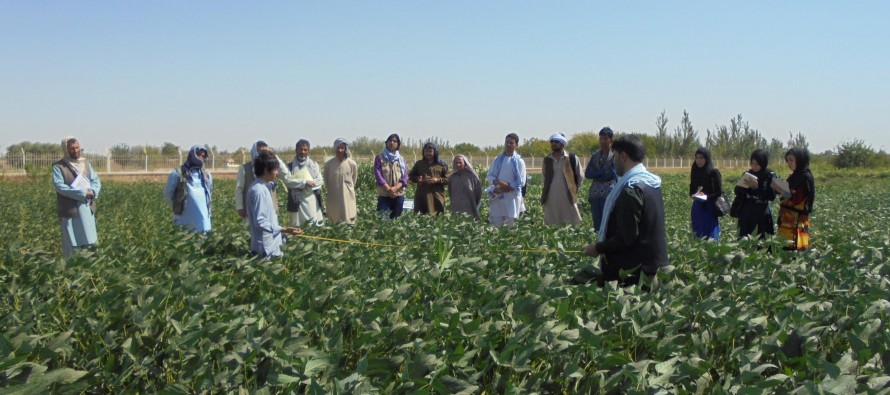 For the past 12 years, Nutrition & Education International (NEI), an international non-governmental organization funded by the Republic of Korea, has significantly improved the health and well-being of thousands of malnourished women and children throughout Afghanistan – all with the simple soybean.
Not only is this miracle bean high in protein, omega 3 oil, and amino acids required for healthy human body development, it is also easy to grow, affordable, and delicious when used in traditional Afghan recipes.
The backbone of NEI's soybean program is its farmers.  NEI has trained farmers on how to grow soybeans, providing them with the necessary seeds, fertilizers, and tools to become successful and self-reliant. In 2016 alone, over 17,400 farming households in 31 provinces grew soybeans – many as a second crop to wheat.  Total production output exceeded 6,000 MT, a record crop for the country, making this highly nutritious and affordable food available to even more Afghan families.   Many farmers elect to reserve a portion of their crop for home consumption, using soybeans as an ingredient in soy qorma, soy palaw, soy naan, and other recipes developed by NEI.
Together with its private sector partners, NEI has established nine soy processing factories located in Kabul, Herat, Nangarhar, Kapisa, Takhar, Kunduz, and Parwan provinces. These factories produce soy biscuits, soy flour, roasted soy nuts, tofu, and sterilized soy milk. New factories are currently being built at Herat and Mazar-e-Sharif to produce soy oil, soy flour and texturized soy protein.
NEI, supported by the Republic of Korea, the World Food Program, and various Afghan government ministries, plans to expand its soybean farmer program in 2018 and beyond so that every Afghan citizen is guaranteed access to this nutritious, affordable miracle bean.
---
---
Related Articles
A four-day Afghan-Iranian trade summit has been held in Kabul from October 19-22 to help bolster ties between the two
New Straits Times, Kuala Lumpur-Malaysia has stated it will do its utmost to support Afghanistan's reconciliation and reconstruction process. The
Steel minister Beni Prasad Verma is headed to Kabul to sign a memorandum of understanding, as part of India's growing economic engagement with