Afghan Finance Minister briefs Lower House on national revenue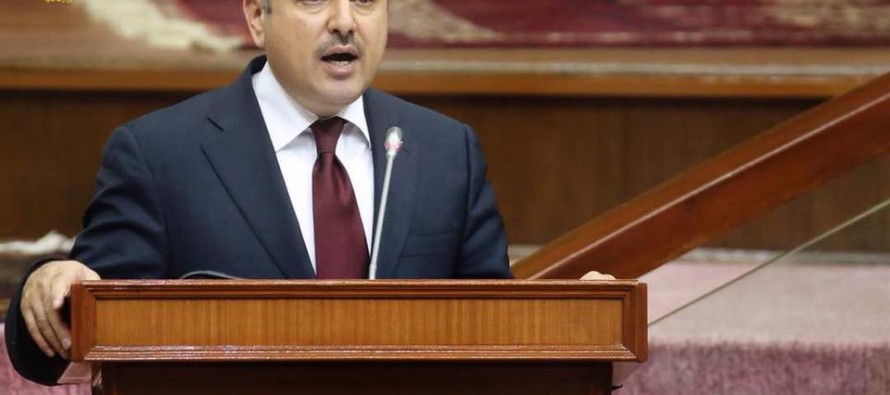 Afghan Finance Minister Eklil Hakimi and Deputy Finance Minister Karim Baz provided information on the national revenue and other activities and achievements of the ministry to the Wolesi Jirga or the Lower House of the parliament.
Hakimi highlighted the achievements of High Economic Council, expenditure of development budget and also provided information on national programs, multi-purpose dams and reforms in customs and revenue sources.
Hakimi said the government has collected 47.5bn AFN in revenue by 26 Hamal of this year, showing a 4% increase (2mn AFN) compared to this term of last year.
He highlighted the collection of 169.1bn AFN in revenue from internal resources in 1396 (a 70% increase from the 1393 revenue) and 95% expenditure of development budget as two major achievements of the Ministry of Finance.
He added that the Ministry of Finance received USD 1.2bn, Euros 497mn, CAD 37mn and USD 201 billion in the first quarter of 2018 in foreign aid to finance the national priority development programs.
According to Hakimi, the paperwork involved in tax payment is reduced by 70% to further improve revenue collection process.
Regarding regional cooperation, he said 20 agreements have been signed with Uzbekistan. Work on the implementation of 4 of these agreements is underway. These agreements are:
Survey and design of Sarkhan-Pul Khumri transmission line
Construction of the Mazar-Herat railway
Agreement on the security aspect of the Mazar-Herat railway is soon going to be signed
MoU between Afghan Telecom and Uzbek Telecom
He provided information on other regional cooperation projects including Turkmenistan-Afghanistan-Pakistan (TAP) power project, CASA-1000 and Afghanistan's membership with the China-led Asian Infrastructure Investment Bank (AIIB) and collaboration with Iran through Chabahar port and Khwaf-Herat railway.
Hakimi assured the MPs that the Afghan government is prepared to participate in the Geneva conference which is slated for November 27 and 28 of this year.
---
---
Related Articles
The Afghan Central Bank, Da Afghanistan Bank (DAB), has announced to sell USD 12mn on Saturday. DAB requested qualified dealers
President Mohammad Ashraf Ghani presented Afghanistan in the Global Sustainable Transport Conference in Turkmen capital, Ashgabat. Held on November 26-27,
The Swedish Committee for Afghanistan completed 27 projects in Hazrat Sultan and Feroz Nakhcheer districts of Samangan. Meanwhile 24 Community