Afghan Finance Minister Updates Senate on National Budget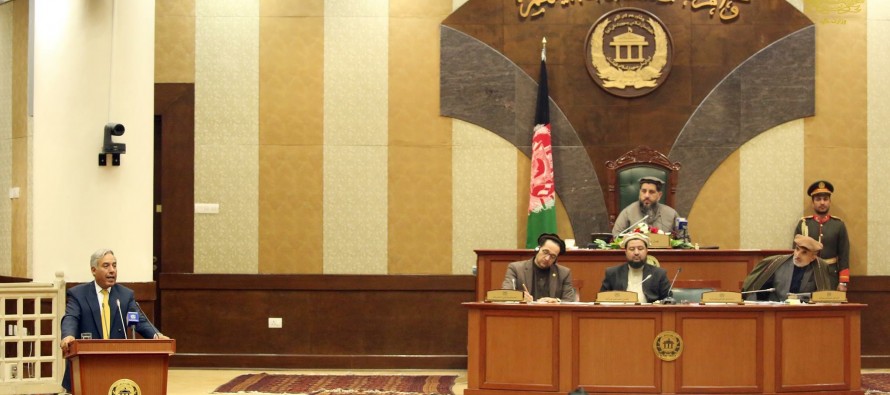 Dr. Mohammad Humayon Qayoumi, Acting Minister of Finance and Chief Advisor on Infrastructure to the President, along with Dr. Mohammad Karim Baz, Deputy Minister for Parliamentary Affairs participated in Meshrano Jirga General Meeting where they presented the FY-1398 National Budget to the respected senators according to article 98 of Afghanistan Constitution.
Qayoumi provided precise information to the members of Meshrano Jirga about collection of domestic revenue in accordance with financial plan and its increase by 30% compared to FY-1393.
In the meeting, Minister Qayoumi assured them that their comments on the national budget would be considered in accordance with the laws of the country and available facilities. 
He requested them to approve  the national budget and submit it to the Wolesi Jirga soon to allow for timely  implementation of development projects. 
The total amount of the national budget for FY-1398 is 399 billion AFN, 275 billion AFN of which is the ordinary budget and 124billion AFN is the development budget.
Most of the development budget is allocated for five sectors: 52 billion AFN for Infrastructure, 23 billion AFN for agriculture and rural development, 13 billion AFN for health, 8.8 billion AFN for  governance and 6.8 billion AFN for education.
In FY-1398 national budget, the focus is on development budget which is 12% higher compared to FY-1397 national budget.  However, there has been a saving in ordinary budget.
---
Related Articles
Higher Education's Minister Ubaidullah Ubaid inaugurated a new building on Ghazni University's campus. Costing 50mn AFN, the building is funded
Women's Affairs Department in southern Kandahar province trained 400 women in tailoring, embroidery, curtain making, beautician and bead making in
As many as 27 infrastructure projects have been completed in Ismailkhail, Zazi Maidan, Tanai and Mandozzi districts of Khost province.