Afghan food products enhanced through retail distribution and mobile money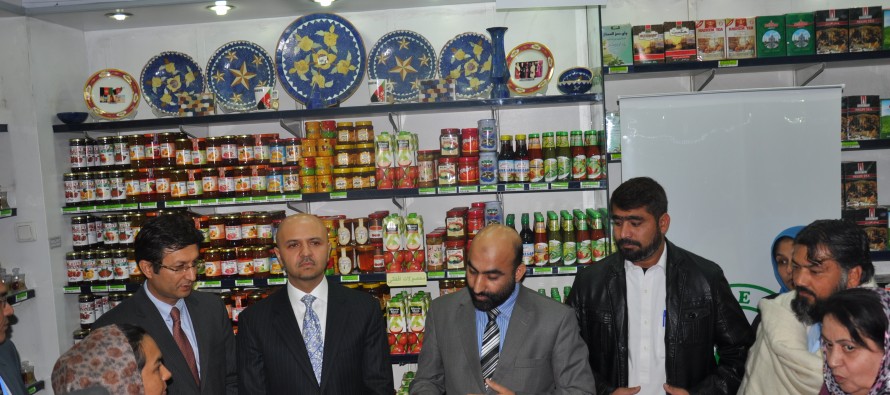 In a bid to establish a competitive marketplace for Afghanistan's agricultural products, Afghanistan's largest retail store, Finest Supermarket, launches a new line of food products that are sourced from Afghan entrepreneurs.
As many as 30 high quality food products including spices from Parwan and Kapisa, yogurt from Kabul, fruit jams and honey from Mazar-e-Sharif and spicy vegetable chutneys from Jalalabad are now available in Finest supermarkets. More than 10 products are manufactured by women owned and managed businesses.
"Afghans love good and high quality food. We're simply choosing to tell a new story about Afghanistan–one of a rich agriculture culture and bounty with the potential to feed itself and the world. It is exciting to actualize the initial steps of our corporate strategy coming to the Kabul market," said Sadat Naderi, Chairman of SMN Investment Group, which owns Finest.
Finest has also signed a partnership with Roshan's mobile money product, M-Paisa, through which Finest will pay "Made in Afghanistan" vendors. The store also offers e-payments to customers to purchase their goods at Finest stores.
Founded in 2006 by Afghan entrepreneur Sadat Mansur Naderi, Finest Supermarkets is Afghanistan's first chain of retail outlets and services. Employing over 400 people, Finest now boasts 7 superstores in Kabul.
This comes as Afghan producers complain about lack of proper access to markets for their products.
---
---
Related Articles
The Afghanistan Chamber of Commerce and Industry (ACCI) have said trade deals between Afghanistan and Pakistan are reduced by 50%
The US government has pledged $15 million in aid to help combat COVID-19 in Afghanistan, according to a statement issued
As many as 84 development projects have been executed in Baghlan province this year, said Rural Rehabilitation and Development Department