Afghan-French delegation's annual meeting on enforcing French deal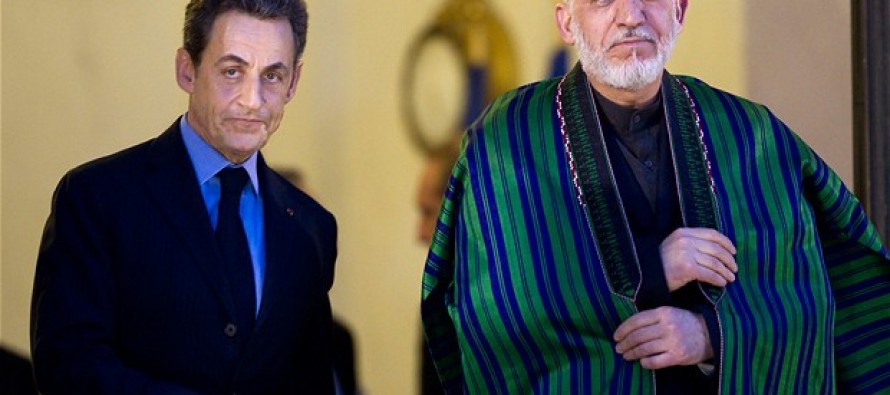 President Hamid Karzai and his former French counterpart Nicolas Sarkozy signed a pact in Paris last year, where the French government has promised to stand by Afghanistan in improving security, agriculture and health sectors beyond 2014.
In order to ensure a proper implementation of the long-term cooperation agreement, a joint Afghan-French delegation composed of technical experts would meet annually to assess the implementation process.
In addition, foreign ministers of the two countries will attend meeting s in Kabul and Paris to evaluate the process of implementation and identify priorities in this regard.
France jointed the NATO-led coalition in Afghanistan in late 2011 after the September 11 terrorists' attacks on the United States to fight the radical militant group Taliban. The country is planning to withdraw its troops from Afghanistan by the end of December 2012.
There are currently about 2,500 French troops in the Afghan provinces of Kabul and Kapisa compared with 4,000-strong personnel a year ago. France has lost 88 soldiers since deploying troops in Afghanistan.
---
---
Related Articles
Draft plans for the Kabul-Delhi route and the Kandahar-Amritsar route have been prepared and the routes will start within two
A new building for agriculture faculty of Herat University was inaugurated on Wednesday by the Minister of Higher Education, Obaidullah
Afghan President Ashraf Ghani , Pakistani Prime Minister Nawaz Sharif , Indian vice president Hamid Ansari and their host Turkmenistan