Afghan-German Cooperation supports environmental awareness campaign in Qala-e-Zal district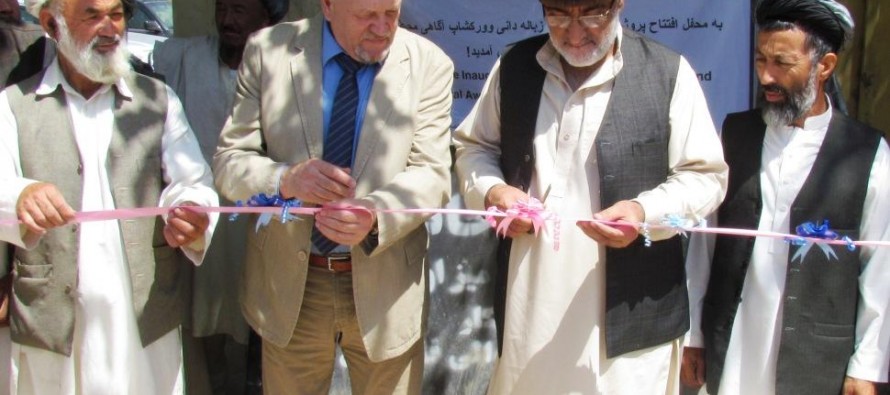 As part of an environmental awareness campaign in the district of Qal-e-Zal in Kunduz province, 120 residents (80 male and 40 female) took part in courses on how to protect the environment. As a further measure of the campaign, 20 new rubbish bins were installed in the municipalities of Qal-e-Zal and Aqtepa, with a monthly waste disposal plan and budget allocated to keeping the cities clean.
The campaign was initiated by Qala-e-Zal Municipality and the National Environmental Protection Agency (NEPA) with almost AFN 550,000 in funding from the German Government through Afghan-German Cooperation. To celebrate the start of the campaign, Mr. Habibullah Mohtashim, District Governor of Qala-e-Zal, and Mr. Muhammad Ewaz, Mayor of Qala-e-Zal, expressed thanks for supporting the campaign to Mr. Manfred Meyer, Cooordinator of the German Federal Ministry for Economic Cooperation and Development (BMZ) for Kunduz & Baghlan.
Environmental awareness is still a new issue for many parts of Afghanistan. While there have been campaigns for environmental protection in Kunduz Municipality, there had been none until now in the district of Qala-e-Zal. To help the population learn how to keep their district and municipality clean, NEPA and the municipal administration organized an environmental awareness campaign with courses in environmental problems, water, soil and air pollution, how to avoid environmental damage, proper waste disposal and how to avoid waste and how to use rubbish bins.
The 120 participants in the courses came from all walks of life and age groups (between 22 and 60 years old). The installation of 20 waste disposal bins will help the municipalities of Qal-e-Zal and Aqtepa enforce a new waste disposal plan, with monthly disposal of rubbish. Previously, rubbish was taken out of the city once a year and was causing a threat to residents' health and to the city's environment in general. Together with the installation of the rubbish bins, the municipality also allocated a budget for transporting waste out of the city.
The project was selected by the District Development Committee in Kunduz Qala-e-Zal as a priority for Qala-e-Zal Municipality. Technical and financial support comes from the Regional Capacity Development Fund (RCDF) in KunduzBaghlan, financed by the German Federal Ministry for Economic Cooperation and Development (BMZ).
As part of the Afghan-German Cooperation strategy, the RCDF is implemented by Deutsche Gesellschaft für Internationale Zusammenarbeit (GIZ) GmbH. The RCDF provides supports for its Afghan partners' development priorities both on a provincial and a district level in six of Afghanistan's Northern provinces. At the same time, the RCDF provides training and coaching programmes for civil servants. With its broad range of activities, the RCDF aims to increase Afghan ownership of the development process, strengthen Afghan state institutions on the sub-national level and promote transparency and inclusiveness.
---
---
Related Articles
The Balkh Directorate of Commerce and Industry (DOCI) and the Balkh Chamber of Commerce and Industry conducted a Public Private
With a cost of 4,711,800 AFN four sub-projects of the National Solidarity Program (NSP) of the Ministry of Rural Rehabilitation
Afghan traders have inked US$20.5 million in signed and potential deals for high-value agricultural products due to their participation in