Afghan-German workshop on sub-national governance in Kabul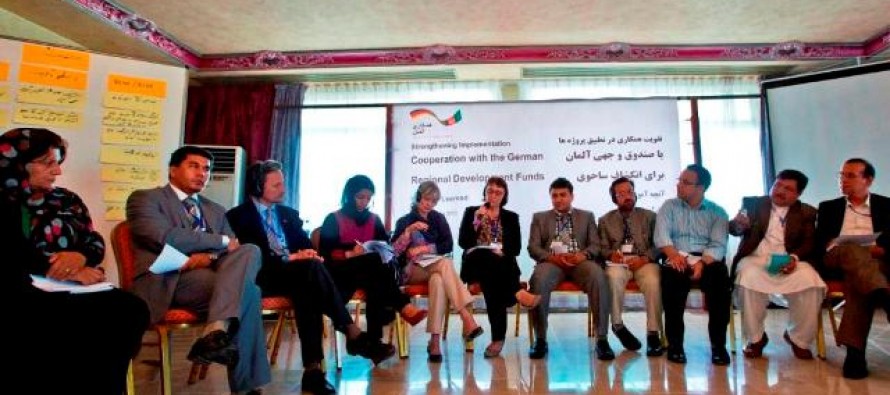 On June 23rd, 2013 an Afghan-German workshop on subnational governance took place in Kabul. Approximately 80 representatives of the provincial governments of Badakhshan, Baghlan, Balkh, Kunduz, Samangan and Takhar attended the workshop. Amongst them were the Deputy Governors of Takhar,Mohammad Farid Zaki, and Badakhshan, Dr. Gul Mohammad Bidar, as well as employees of the Ministry of Rural Rehabilitation and Development (MRRD), the Independent Directorate of Local Governance(IDLG), the Independent Administrative Reform and Civil Service Commission (IARCSC) and the German Cooperation with Afghanistan.
During the workshop, the attendees discussed measures of strengthening the cooperation with the German Regional Development Funds for the North, the Regional Capacity Development Fund (RCDF) and the Regional Infrastructure Development Fund (RIDF), focusing on practical experiences of the participants and successes achieved to date. The procedures of the funds, particularly the transparent and participatory decision-making process within the Provincial Development Councils (PDC), was highly acknowledged by the participants as it capacitates the Afghan subnational institutions to identify, plan, prioritize and implement projects in ownership. "With regards to the decision-making processes and transparency we want to continue the cooperation with RCDF and RIDF as it is", Dr. Mohammad Afzal Hadeed, Head of the Provincial Council of Balkh province said.
As a result of the workshop, the participants formulated recommendations for a better, more effective and efficient cooperation with the overall goal to improve service delivery for the Afghan people, amongst them the need to strengthen local entities and distribute funds from the national level in a timely manner.
The RCDF focuses on strengthening governmental institutions and public administration on provincial and district level. The RIDF is aiming to improve the regional infrastructure with simultaneous support of the relevant department. Both funds are aligned to the development priorities of the Afghan partners according to the Afghan National Development Strategy. Increasing Afghan ownership of the development process, strengthening Afghan state institutions on subnational level and promoting transparency and inclusiveness are the main features of the funds.
As part of the German Cooperation with Afghanistan, the RCDF is implemented by Deutsche Gesellschaft für Internationale Zusammenarbeit (GIZ) GmbH whereas the RIDF is administered by the KfW Development Bank. Both funds are financed by the German Federal Ministry for Economic Cooperation and Development (BMZ).
---
---
Related Articles
In my first article on LinkedIn, I argued that water scarcity is the central crisis of our time, and that my
Senior Officials of the members and supporters of the Heart of Asia-Istanbul process met on Monday in Islamabad to confer
Over the past months, over 210 engineers from various technical departments in the provinces Badakhshan, Baghlan, Balkh, Kunduz, Samangan and