Afghan government committed to improving local products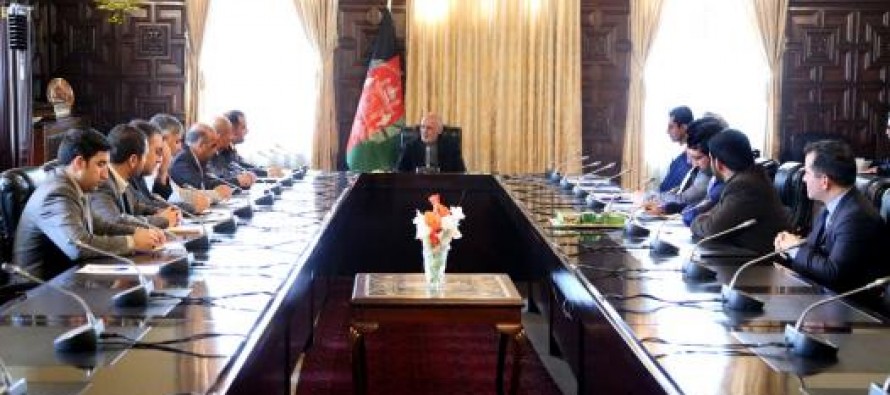 Afghan traders informed President Ashraf Ghani of the increase in exports of dry and fresh fruits from Afghanistan.
President Ghani said the boost in exports of Afghan products was a victory for Afghan traders and the country.
According to the traders, the prices of raisin have increased by 30% due to increase in demand for the Afghan dry fruits.
The traders told the president that the quality of Afghan fruits had improved and urged the government to address the corruption issue in the exports sector.
They also called on the government to provide cold storage facilities and a common center for processing fruits and vegetables.
Thanking the Afghan traders for their efforts, President Ghani said the government would establish more storage facilities for agricultural products.
In order to enhance exports, he added that his administration would connect Afghanistan with Turkmenistan through railways which would help Afghan traders transport their goods.
He assured the traders that his government was committed to improving local products and said that the National Procurement Committee (NPC) had rejected contracts that did not take Afghan products into consideration
The Afghan government has increased the use of Afghan goods fulfilling the public sector needs by 15%.
President Ghani also announced that Azerbaijan was interested in cooperation and partnership in transferring and exporting the Afghan products.
---
---
Related Articles
A delegation led by Afghan Defense Ministry Advisor Wazhma Frogh met with the Federation of Pakistan Chamber of Commerce and
The World Trade Organization (WTO) formally adopted Afghanistan's terms of accession into the renowned multilateral trading organization at the WTO's
Afghanistan's Exports Information Services Center that was destroyed during the decades of war has been established again. The center serves