Afghan government enhances effort to curb poppy cultivation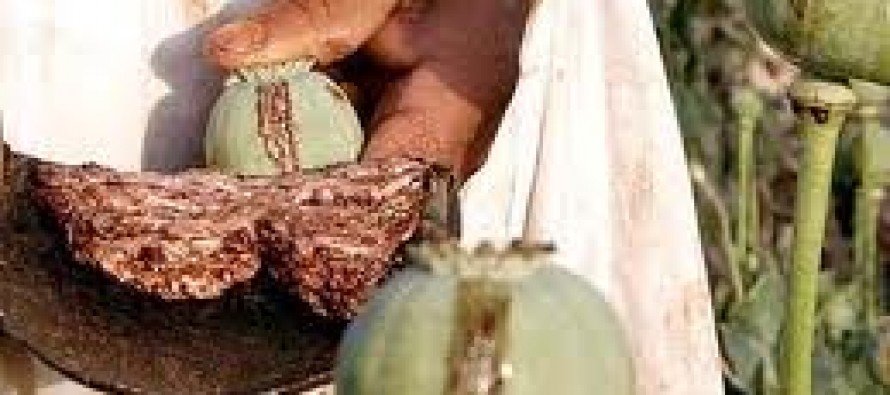 In an attempt to curtail poppy cultivation in the country, Afghan Ministry of Counter Narcotics (MoCN) has planned to reward drug free provinces with development project.
An agreement for that matter has been signed with several construction companies to execute 26 different development projects in provinces where cultivation has dropped to "near zero" level or declined significantly.
The projects are estimated to cost over 465 million AFN.
This is an unconventional approach of the Afghan government to combat poppy cultivation that has traditionally been fought with brute force.
Counter Narcotics Minister Zarar Ahmad Muqbel believed that the rise in poppy cultivation was due to absence of stringent actions against the "main" parties that are behind the drug business.
Muqbel alleged that the poppy was largely cultivated in the regions that share a border with Pakistan.
"We have clear evidences that labs are operational in the regions around the Afghanistan-Pakistan border where drugs are produced on a massive scale," Tolo News quotes Muqbel.
Afghanistan is the leading producer of opium, maintaining 74% of the global market, according to the United Nations Office on Drugs and Crime.
---
---
Related Articles
Kyrgyzstan plans to train 150 Afghan customs officers in the areas of detection of drugs, methods of risk assessment, inspection
President Hamid Karzai flew to Tokyo, Japan on Saturday to attend the Tokyo Conference where donors will pledge an annual
Afghan Ministry of Transport and Aviation signed the contract on reconstructing the Kabul International Airport with Japan's ambassador to Afghanistan.