Afghan Gov't Officials Attend Workshop to Identify SDG gaps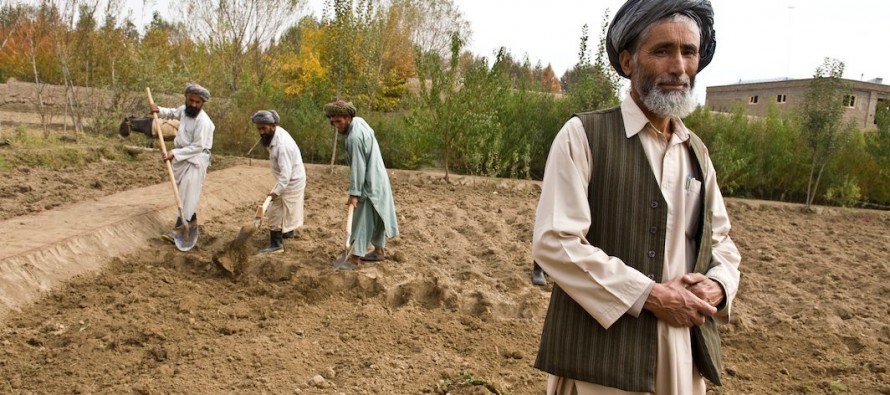 Over 40 government officials from the Northern Afghan provinces of Balkh, Jawzjan, Faryab, Sare Pul, Samangan and Baghlan attended a two-day multi-stakeholder Sustainable Development Goals (SDGs) on Agriculture and Natural Resources Management workshop in Mazar-i-Sharif from 24 to 25 April 2018.
The Afghanistan Research and Evaluation Unit (AREU) with the support of the Food and Agriculture Organization of the United Nations (FAO) and the Ministry of Agriculture, Irrigation and Livestock (MAIL) are currently conducting workshops across seven regions of Afghanistan. The workshops provide an opportunity to the central and provincial governmental officials and multi-stakeholders to discuss the Sustainable Development Goals (SDGs) in more detail and carry out an analysis of relevant activities at a field level.
Mehnaz Ajmal Paracha, Policy Officer (FIRST), FAO Afghanistan said: "The development and prosperity of the region, including all the provinces, cannot be achieved until we streamline our policies and strategies and restructure our institutions in the wake of recently adopted Sustainable Development Goals."
"To achieve Sustainable Development Goals, it is essential to tackle the root causes of poverty, reduce inequalities and ensure inclusive growth through approaches that address simultaneously the economic, environmental and social dimensions of development," she added.
AREU Director, Dr. Orzala Nemat said, "It is important for the government officials at both the central and provincial levels to have a clear idea of SDGs in terms of where we are and what we need to do to achieve the Sustainable Development Goals (SDGs) within the given time frame."
She added that the workshops in different regions also bring to light the diversity of needs, capabilities and weaknesses of key stakeholders to achieve the Sustainable Development Goals.
The overall objective of these workshops is to build capacity surrounding SDG indicators and identify development gaps. The project will also carry out mapping exercises on roles, responsibilities, and obligations of various Afghan stakeholders, as well as identify how their contributions can be measured based on the relevant SDG indicators, which are primarily related to agriculture and food security.
In coordination with the Ministry of Agriculture, Irrigation and Livestock (MAIL) and other ministries, FAO and AREU are working to pave the way for contribution to achieving the SDGs in rural communities through policy advocacy, awareness raising, data generation and monitoring.
The first workshop took place in Herat followed by the second one in Kandahar earlier this month. Similar workshops will also be held in other regions in the near future.
AREU is an independent research institute based in Kabul that was established in 2002 by the assistance of the international community in Afghanistan. AREU achieves its mission by engaging with policy makers, civil society, researchers and academics to promote their use of AREU's research-based publications and its library, strengthening their research capacity and creating opportunities for analysis, reflection and debate.
---
Related Articles
Turkmenistan has agreed to increase the supply of electricity to Afghanistan in Serhetabat-Gerat-Turgundi and Rabatkashan-Kalainau areas. According to Orient News,
Lately, a number of patients in Kabul have complained about the different ways that Afghan doctors try to swindle them
Shortly before cruising in on a wave of phase to equalise for Real Madrid against Manchester United last night, the