Afghan gov't reviews policies aimed at removing barriers to women in workplace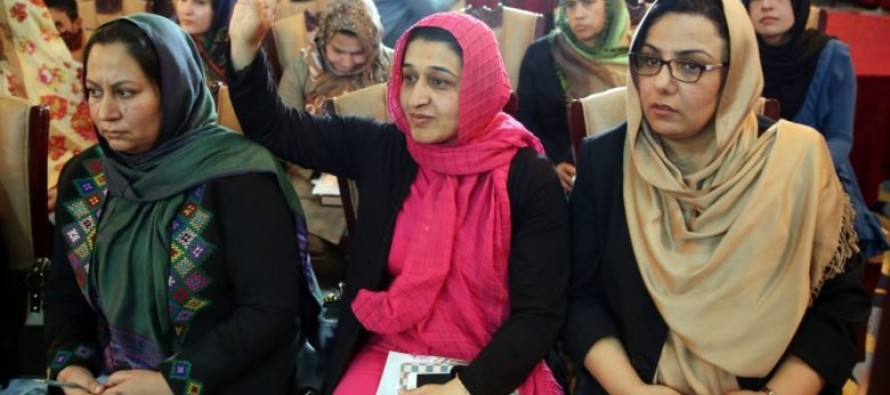 Policies to support Afghan women who work in government were reviewed at a conference held today in Kabul. Over 150 officials, representing 36 ministries and independent agencies of the Government of the Islamic Republic of Afghanistan, discussed gains in the implementation of policy reforms aimed at removing barriers to women in the government workplace.
Conference participants also discussed gaps and identified resources to implement the proposed reforms, an initiative that started in 2016.
A special study conducted with the Ministry of Women's Affairs (MoWA) by the United States Agency for International Development (USAID)/Promote project analyzed workplace obstacles, pinpointed barriers faced by women working in government, and provided recommendations.
"USAID recognizes that women are an important part of the government's workforce," said Tamra Halmrast-Sanchez, Acting USAID Mission Director. "Improving the opportunities for women to contribute to the future of Afghanistan in economic growth, peace, and security is something all people can support."
The study looked at three areas of policy, infrastructure, and cultural components which promote the well-being of female employees. The study identified the following 10 priority areas for reform:
Implementing legislative and regulatory reforms, including enforcing Anti-Harassment laws
Creating job portals and career development centers for women
Enforcing the 30 percent quota of women in government jobs, to increase female representation in government
Empowering the ministries' Gender Units to fulfill their mandates, and providing additional professional development opportunities for staff and increased advocacy efforts
Conducting public awareness and behavior change campaigns
Increasing the number of women in leadership positions in ministries and independent agencies
Establishing a committee to oversee the recruitment process for women in government
Training for women currently working in the Afghan government to further develop their skills
Upgrading or installing workplace enablers such as women's health and wellness facilities, separate toilet facilities for women, physical upgrades to safety and security facilities
Allocating specific positions for women within the Afghan government's tashkeel
 The study was conducted in November 2017, one year after MoWA's first policy reform conference held in Kabul. USAID Promote experts revisited key agencies that were assessed in the first report to see what changes had been made. Significant reforms were noted in these agencies. For example, the Ministry of Commerce and Industry implemented infrastructure changes that improved the work environment for women, including new and improved nursery, prayer room, and dining facilities.
 Spoghmai Wardak, Deputy Minister for Women's Affairs, said that MoWA, as a monitoring agency, will work together with government ministries and independent agencies to continue addressing the problems that women face in the workplace.
The USAID Promote: Women in Government project is a part of the overall effort to assist the Afghan government in reaching its goal of at least 30 percent women in all government institutions. USAID also works with the Government of Afghanistan to train up to 3,000 women for careers in the civil service, including training, internships and mentoring for women joining government ministries and agencies. More than 2,500 female college and high school graduates have participated in the training in Kabul, Herat, Balkh, Kandahar, and Nangarhar.
---
---
Related Articles
Afghanistan will have its first online commodity exchange market in Kabul where online selling for Afghan agricultural products, gems, industrial
A 21-day training workshop in English and computer skills for district agricultural departments came to close in Faizabad, Badakshan. As
Fire erupted in the footwear section of Kabul' Mandawi market on Saturday morning and left 370 shops in ashes. According