Afghan lawyers' association opens new offices in Kunduz with German, Dutch support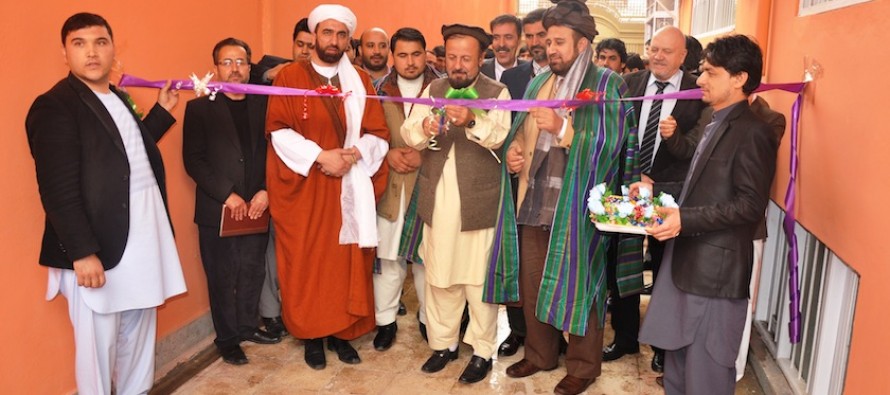 The Afghanistan Independent Bar united pharmacy canada Association (AIBA) opened its new offices in Kunduz city on Thursday. The total costs for buying and renovating the new offices with German and Dutch support added up to more than AFN 17 million. The lawyers' chamber's building will serve various purposes and requirements.
By providing proper office space for AIBA members and its administration in the three neighbouring provinces Kunduz, Takhar and Badakhshan, the association will viagra see what it does be able to broaden its range of legal services for citizens here. The offices can also be used as a venue for entrance tests for prospective lawyers to the bar. As women in the provinces often face difficulties working and learning in the justice sector, the office is also considered an important step and address for women in the region interested in pursuing a career.
Speaking at the opening ceremony for the new offices, the host and AIBA president, Rohullah Qarizada, said, "We thank the governments of Germany and Holland for their continued commitment, especially here cialas in Kunduz. Without their support, this milestone in the progress of the independent would not generic viagra online canadian pharmacyonline viagra no prescription have been possible. This young profession can now pursue its specific responsibility for social development and establishing rule of law here."
Fazlulrahman Fazli, Chief Judge and Head of the Appellate Court of Kunduz, added, "Lawyers play a fundamental role in fair trails. Without them, the judiciary would be incomplete." They were joined at the opening ceremony by Hamdullah Daneshi, the deputy provincial governor, and Manfred Meyer, commissioner of the German Federal Ministry of Economic Cooperation and Development.
Besides financial and technical assistance for the new building, the German and Dutch governments' justice sector programme has also supported AIBA with organisational and training development measures for lawyers in various fields. Together with the International Law Development Organization, the program finances a monthly magazine called Wekalat. Germany and Holland also support monthly meetings in Kabul, Takhar, Badakhshan, Kunduz and Balkh.
With its headquarters in Kabul, AIBA was founded in 2007 as a statutory and fully independent body that provides training, pro-bono coordination, and advocacy for its members. It is further responsible for licensing, discipline and regulations for attorneys throughout Afghanistan.
On behalf of the German Federal Ministry of Development (BMZ), the Gesellschaft für Internationale Zusammenarbeit (GIZ) GmbH has been working together with the Afghan Government to promote rule of law in Afghanistan. Since 2003, the project has been supporting the Ministry of Justice of Afghanistan in its efforts to ensure access to justice for all citizens. This is done through supporting better access to justice, as well as improving the professional capacity of justice sector staff. At the same time legal awareness of citizens is strengthened. In 2008, the project started activities in Kunduz province. And in 2011, the Dutch Government started co-funding projects together with German Government in Kunduz.
---
---
Related Articles
The Government of Japan will provide a total amount of USD20,000,000 of grant assistance to Afghanistan through UN-Habitat for its
The Great Britain and the United States Agency for International Development (USAID) will provide USD 105mn to help marginalized Afghan
According to the Pajhwok Afghan News, two schools reopened in the Panjwai district of southern Kandahar province. The schools were