Afghan manufacturers emphasize on implementing national electro-technical standards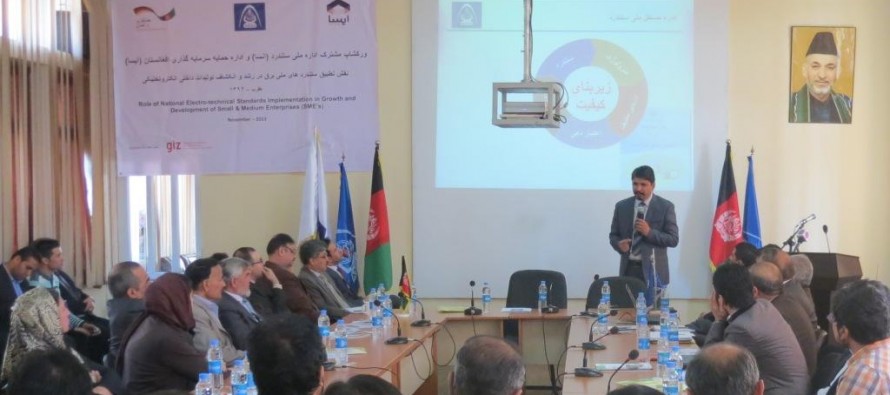 On November 2nd, 2013 more than 40 Afghan manufacturers of electro-technical products such as transformers, cables, bulbs or plugs met in Kabul to discuss how national electro-technical standards implementation can contribute to their own growth, to the development of the Afghan economy and to the enhancement of energy efficiency in Afghanistan.
By complying with national standards, Afghan small and medium sized enterprises of the power sector enhance both energy efficiency and consumer safety. Furthermore, products complying with standards are more competitive on domestic and international markets. All these factors help the development of the Afghan economy. It also reduces dependence on often low-quality imported products from abroad and increases local employment opportunities.
Since 2010, the Deutsche Gesellschaft für Internationale Zusammenarbeit (GIZ) GmbH, on behalf of the German Federal Ministry of Economic Cooperation and Development (BMZ) has been supporting the Afghan National Standards Authority (ANSA) in its effort to pro-mote electro-technical standardization in Afghanistan.
The Afghan National Standards Authority (ANSA) has already adopted more than 100 national electro-technical standards. For example newly constructed power transmission lines now have to follow these standards. This avoids unnecessary electricity losses during trans-port of electricity from power plants to households and business.
To support the Afghan private sector to comply with the existing national standards, ANSA and the Afghanistan Investment Support Agency (AISA) invited Afghan companies operating in the electricity sector to this workshop in Kabul this week. ANSA Director-General, H.E. Popalzai stated during the meeting "Standardization and standards implementation is not only the task of ANSA, but it is a joint mission of all related private and public entities and could be realized via common cooperation and coordination."
The Afghan enterprises are committed to comply with the standards as it promotes their own competitiveness. This week's gathering also helped national decision makers on better considering the needs of the Afghan local enterprises when adopting new national standards. With the support of the Afghan-German Cooperation, ANSA is currently also establishing a testing laboratory for electro-technical products. The testing will help Afghan firms to certify their products. This not only enhances their competitiveness, but also ensures that products are safe for consumers and energy efficient
---
---
Related Articles
Bashir Halimi, an Afghan-Canadian, invested USD 400,000 and established London's favorite fast food franchise, Mr. Cod, in war-torn Kabul city.
This year's timely rains has increased wheat yield for Badghis farmers by 61%. Provincial Agriculture Director Hafizullah Benish told Pajhwok
Herat's Governor, Mohammad Asif Rahimi, announced Thursday that construction work would soon kick off on the much-awaited Salma Dam project,