Afghan Mines Ministry improving ability to manage mining sector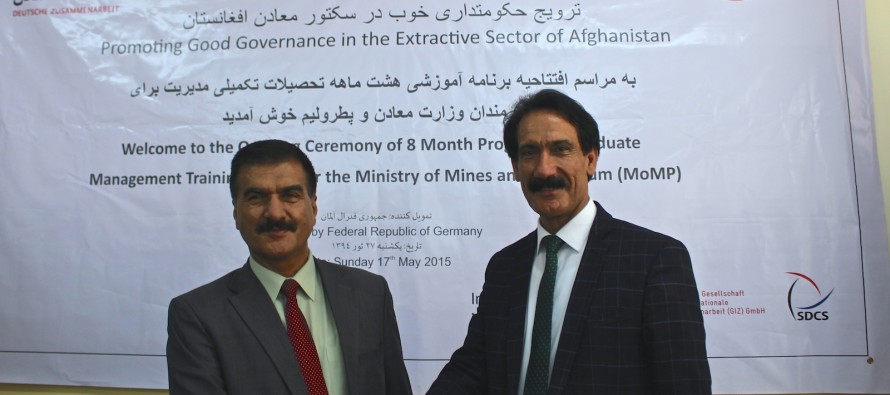 At Kabul's Dunya University, 24 employees from the Ministry of Mines and Petroleum embarked on eight months of professional training, giving them and the ministry the knowledge and abilities they need to manage extraction of Afghanistan's mineral assets properly.
The course is part of a range of German government find cialis online measures to promote mineral governance in Afghanistan. The cost of over AFN 5 million I've been using this product for 6 months now and it's totally eliminated all menopausal symtoms. Candian viagra: placing an order at our online pharmacy is simple. for the teaching was fully funded by Germany.
To mark the start of the course, Mr Ibrahim Azhar, Deputy Minister of the MoMP, talked about the ministry's hopes for the students and urged them to remain committed to the objectives of the course.
"I am confident our employees will put all their energy into learning as much as they can. We need to manage our mineral resources in the most beneficial manner for Afghanistan – for our country's future. Courses like this will help our employees by giving them a foundation to build the professional skills they need for their posts," said Mr. Azhar.
The syllabus includes courses in leadership and personnel management, including strategic planning and decision-making based https://wadsam.com/shop/how-to-get-viagra-from-canada/ on innovative business practices. In terms of operations, the MoMP employees will also take courses on business plan writing and development, budget planning, proposal development and structured report writing.
Funded by by Germany's Federal Ministry for Economic Cooperation and Development (BMZ), the program for promoting mineral governance aims at enabling the MoMP to perform its supervisory role more effectively by. The objective is to improve governance in the sector through a more efficient and transparent mining healthcare of canada pharmacy authority. An important factor is to improve employees' management skills. The training for these 24 MoMP employees can therefore contribute to improving the ministry's ability to oversee the mining sector.
---
---
Related Articles
The prices of dry fruits have doubled as the religious festival of Eid-ul Fitr is drawing closer. Eid-ul-Fitr is a Muslim holiday that
A 100-bed treatment center for isolation and treatment of COVID-19 has been inaugurated in Jalalabad, Nangarhar. Nagarhar Governor Shah Mahmood
The Teacher Education Directorate (TED) of the Ministry of Education invited a team of dedicated education professionals to take part