Afghan mining inspectors receive training in Iran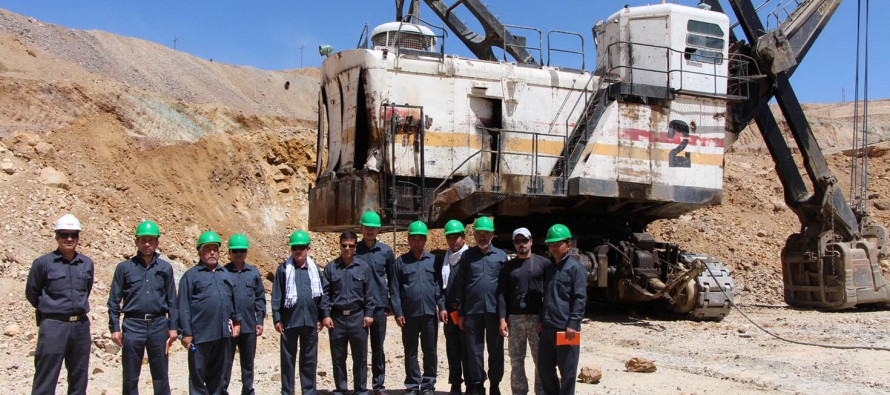 Ten mining inspectors from the Ministry of Mines and Petroleum (MoMP) received certificates for their successful completion of a two week field training in Kerman, Iran on health, safety & environmental standards (HSE) in open pit and underground mining.
During the ceremony, the Director of Mines Inspection Directorate of MoMP, Mohammad Ali Behsoodi, highlighted: "The need for adequate supervision of mining activities according to health, safety and environmental standards is very high, especially on provincial level."
While visiting Iranian mines, participants learned about health and safety as well as environmental issues of open pit and underground mining. The program included acid mine drainage and aspects of air/water pollution along the copper production line at Sarcheshmesh copper mine in Kerman. Afterwards, the visitors learned first-hand about risks of environmental pollution along the coal production line at Paydona underground coal mine in Kerman.
Thanks to the training, the participating Afghan mining inspectors are in a better place to verify whether occurring mining activities are conform to HSE norms and standards. They can also identify different hazards and conduct risk assessments more easily. Thus, their actions will contribute to preventing health risks to mineworkers as well as the surrounding population.
Amir Shah Amir, MoMP Mining Inspector, said: "I did not have sufficient knowledge about the different types of environmental contaminants that may occur in an open pit mine. Nor was I able to link these to mining processes especially along the copper production line." Murtza Wahidi, MoMP Mining Inspector, added: "Now, I will be able to better inspect and monitor mining activities in Afghanistan, in particular environmental issues surrounding Mes Aynak copper mine. The knowledge and skills I gained about health and safety standards will also help to reduce the number of accidents in mines in Afghanistan."
The training was conducted by the Geological Survey of Iran (GSI) and the Iranian Mining Engineering Organization (IMEO). The Afghan-German Cooperation funded the training via the project "Promoting Good Governance in the Extractive Sector in Afghanistan".
The project "Promoting Good Governance in the Extractive Sector in Afghanistan", funded by the German Ministry of Economic Cooperation and Development (BMZ), provides strategic support to the MoMP, strengthens its line departments in line with good governance criteria and supports the Afghan Extractive Industries Transparency Initiative (AEITI). The project therefore contributes to the Afghan National Development Strategy (ANDS) and to the National Extractive Industries Excellence Program (NEIEP).
---
Related Articles
The fourth 'Made in Pakistan' exhibition has kicked off in capital Kabul and will continue until May 7. Organized by
The result of a study conducted by the Afghanistan Research and Evaluation Unit (AREU) with the financial support of the
Afghanistan and China signed a protocol on export of Afghan pine nuts on the sidelines of the 18th Shanghai Cooperation