Afghan mining sector promoted in Toronto, Canada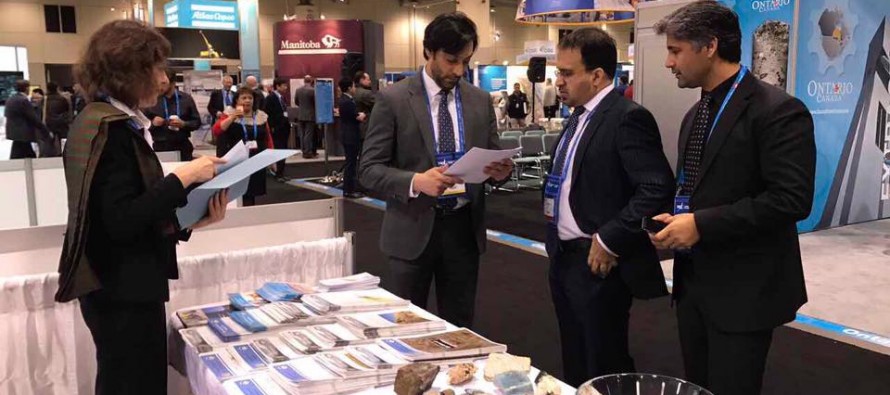 The Ministry of Mines and Petroleum (MoMP), the Ministry of Commerce and Industry (MoCI) and the Afghan Embassy in Ottawa promoted the Afghan Mining sector at the world's leading convention and investor exchange event on mineral exploration and exploitation: the Prospectors & Developers Association of Canada (PDAC).
The annual PDAC Convention—the world's largest industry event—attracted investors, analysts, mining executives, prospectors, geologists, government officials and students.  The Trade Show attracts over 900 exhibitors out of the mining and related sectors. More than 22,000 people from 125 countries attended the event. Industry stakeholder and key players' interests as well as concerns are identified and discussed by governmental representatives, international organisations and private company members.
"The mineral exploration and mining industry is cyclical in nature and has faced a variety of economic challenges over the past several years, but optimism has always remained and it's fantastic to see this being reflected at the PDAC Convention," a statement from PDAC quotes PDAC President Glenn Mullan, referring to sold out exhibitor space, investor meetings, Short Courses, Mineral Outlook Luncheon, and Awards Gala. "There was an upbeat vibe throughout the convention—a positive sign for the sector going forward."
Attendees learned about best practices showcased by industry experts. For instance, the global economic outlook regarding precious metals or copper were discussed – an information relevant to Afghanistan. Governance and transparency in the mining sector have also been addressed. The necessity of adhering to the Extractive Industries Transparency Initiative (EITI) standards was one of the topics. Afghanistan has been applying for full membership of the EITI since 2010. In addition, ideas on how to improve beneficial cooperation between mining industry stakeholders and local communities were discussed.
The project "Promoting Good Governance in the Extractive Sector in Afghanistan", funded by the German Ministry of Economic Cooperation and Development (BMZ), provides strategic support to the MoMP, strengthens its line departments in line with good governance criteria and supports the Afghan Extractive Industries Transparency Initiative (AEITI). The project therefore contributes to the Afghan National Development Strategy (ANDS) and the National Extractive Industries Excellence Program (NEIEP) and the Afghan National Peace and Development Framework (ANPDF).
PDAC, in partnership with the World Economic Forum, hosted the International Mines Ministers Summit (IMMS) for the second year, bringing together 25 Ministers responsible for mining from around the world. The event, hosted at BMO, provided an important setting for the global mining community to explore challenges and opportunities affecting the industry. This year's Summit focused on innovation in the mining industry and the clean innovation agenda.
"PDAC is seen as the voice of responsible mineral exploration and mining, not only in Canada but also abroad," a statement from PDAC quotes PDAC Executive Director Andrew Cheatle. "We must continue to build strong working relationships, both nationally and internationally, and the PDAC Convention is the best opportunity to make these connections and showcase our industry and its importance to social-economic development."
---
---
Related Articles
With a cost of 16 million AFN, 15 projects of the National Solidarity Program of the Ministry of Rural Rehabilitation
The Executive Board of the International Monetary Fund (IMF) has completed the first review of Afghanistan's economic reform program supported
The first ever Afghan-made footwear retail store was inaugurated on Monday in the capital city of Kabul. The USD 40,000