Afghan officials unite to reform legal education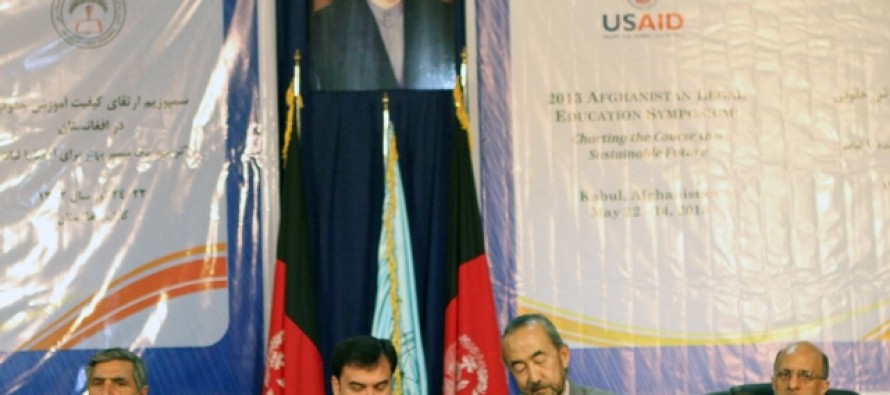 Developing and reforming legal education was the subject of today's historic gathering at the Ministry of Higher Education, where the representatives of Law and Shari'a faculties, governmental and non-governmental institutions, and international donors plotted a course for sustainable education during the 2013 Legal Education Symposium.
The goal of the three-day event is to identify the strengths and weaknesses of the legal education system and help the country's leaders and international partners establish quality legal education in Afghanistan.
Attended the opening ceremony of the Symposium, USAID Mission Director Ken Yamashita said: "Moot Court Competitions are one example of the benefit of practical legal education. This year, the Herat Moot Court Team won the Afghan National Round of the International Law Moot Court Competition and traveled to Washington, DC, where it placed at the highest level of any Afghan participants to date." Noting the remarkable achievements and strides Afghanistan higher education has made in the last decade, he encouraged all attendees to think strategically in developing and improving their educational institutions for all future generations to come.
The opening ceremony also featured keynote speaker Minister of Higher Education Obaidullah Obaid. "I hope this symposium will help us create new opportunities for practical education of students and build the capacity of our legal education," – said Minister Obaid.
The Symposium marks the first time in the history of the country representatives from all Law and Shari'a faculties, governmental and non-governmental institutions, as well as international donor organizations have come together with a common aim of charting the course to a sustainable future for legal education in Afghanistan.
USAID's Formal Rule of Law Program, which facilitated this event, is designed to develop the human and institutional capacity of the justice sector by enhancing the availability of quality of legal education at Law and Sharia faculties across Afghanistan.
---
---
Related Articles
10 engineers and 13 technical staff from various line departments in Kunduz province successfully completed a training course in road
The Afghan entrepreneur, Sayed Saadat Mansoor Naderi, was officially awarded the Peace through Commerce award for 2012 by the United
By Javid Hamdard Overview  Just eleven years ago Afghanistan had a barely functional post-war telecom infrastructure and literally no services.