Afghan president to sign cooperation accords during Turkey visit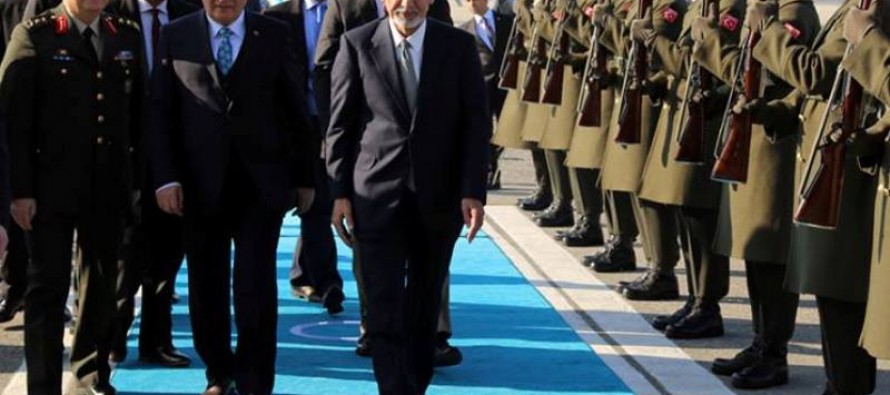 Afghan President Ashraf Ghani has arrived in Istanbul, Turkey where he is expected to hold meetings with Turkish President Recep Tayyip Erdogan and the country's Prime Minister Ahmet Davutoglu to discuss bilateral relations between the two countries.
The two parties are expected to sign several memorandums of understandings, including MoU on political consultation between the Foreign Ministries and on security cooperation between the Interior Ministries of the two countries, as well as MoU on the construction of Mawlana Jalaluddin Mohammad Balkhi University by Turkey in Kabul.
President Ghani will deliver a speech to members of Turkey's economic commission which is comprised of Turkish entrepreneurs and businessmen.
The purpose of President Ghani's two-day visit to Turkey is to expand bilateral economic and trade ties between Kabul and Istanbul and to encourage Turkish investors to invest in Afghanistan.
Turkey and Afghanistan traditionally maintain close relationship. The trade volume between Turkey and Afghanistan has grown from $8.5 million in 2000 to approximately $300 million in 2013.
President Ghani's visit to Istanbul follows right after concluding his visit to Azerbaijan where he signed several cooperation accords.
---
---
Related Articles
The National Solidarity Program of the Ministry of Rural Rehabilitation and Development (MRRD/NSP) recently executed 11 development projects in the
Afghani currency has witnessed a considerable decline lately in its value against several foreign currencies including US dollars. While this
Deputy Minister of Public Health, Dr Abdul Basir Sarwar, and Mr. Andreas Glossner, Political Counselor at the German Embassy in