Afghan provincial councillors complete training for future posts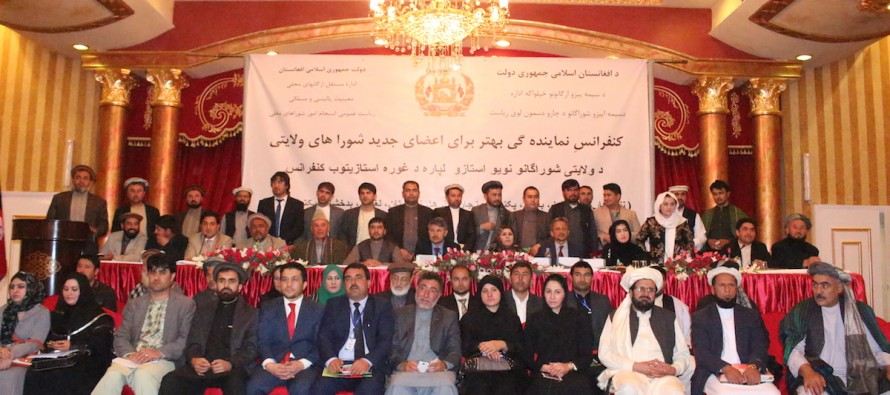 As many as 150 newly elected members of Afghanistan's Provincial Councils concluded a final round of orientation training for their future posts.
Speaking at the closing ceremony, Saeed Ahmad Khamoush, Director General for coordination of local councils affairs (GDCLCA), highlighted the importance of Provincial Councils and their oversight function: "The newly elected Provincial Councils ensure the participation of citizens in developing their provinces and support accountability of government to its citizens."
During the orientation workshop, the new IDLG (Independent Directorate of Local Governance) Director, Ghulam Jelani Popal, promised the new members institutional support from IDLG when fulfilling their functions throughout Afghanistan.
Since January, IDLG has held a total of three orientation workshops for 458 provincial council members from all provinces. The members have all been elected by the population and began their jobs last year. Besides high-level representatives of IDLG and other line ministries, participants also held discussions with President Ahsraf Ghani, CEO Abdullah Abdullah and other senior members of the National Unity Government on their functions and responsibility for encouraging governance at the local and provincial levels.
Besides linking provincial council members to national institutions, the further aims of the workshops were to increase knowledge and understanding of laws and regulations, policies and procedures, to improve dialogue between councillors and local administration and to teach them which resources and procedures are in place in their work.
The task of the provincial councils is to represent the population in the provinces and ensure accountability of the provincial government administration. They collect information regarding administrative activities and deliver reports to the Office of the President and the Meshrano Jirga. Monitoring budget implementation of line departments at local level is also part of their responsibilities, as well as regular meetings with the people and governors. They are also involved in the provincial planning processes. Another responsibility of the councillors is to enable civil society and the public to participate in the work done by the provincial government administration. The provincial councils therefore act as a bridge between government officials in the provinces, districts and communities and civil society organizations.
The workshops were initiated, designed and implemented by General Directorate for coordination of Local Councils' Affairs and supported by the Regional Capacity Development (RCD) program, financed with around €250,000 or over AFN 16.5 million by the German Federal Ministry for Economic Cooperation and Development (BMZ). As part of German cooperation with Afghanistan, the program is implemented in the provinces Badakhshan, Baghlan, Balkh, Kunduz, Takhar (RCD) and Samangan. The RCD is implemented by the Deutsche Gesellschaft für Internationale Zusammenarbeit (GIZ) GmbH with the aim of strengthening the capacities of local government structures in northern Afghanistan.
---
---
Related Articles
Afghan Finance Ministry and the International Monetary Fund (IMF) are holding discussions over the privatization of the loss-making New Kabul
Six reconstruction projects are executed in northern Sar-e-Pul province on Thursday. The infrastructure projects include a school building, three community
By Pamela Constable The Washington Post KABUL — On an ordinary weekday, the streets of Kabul are choked with traffic,