Afghan Rule of Law Achievements Recognized at Supreme Court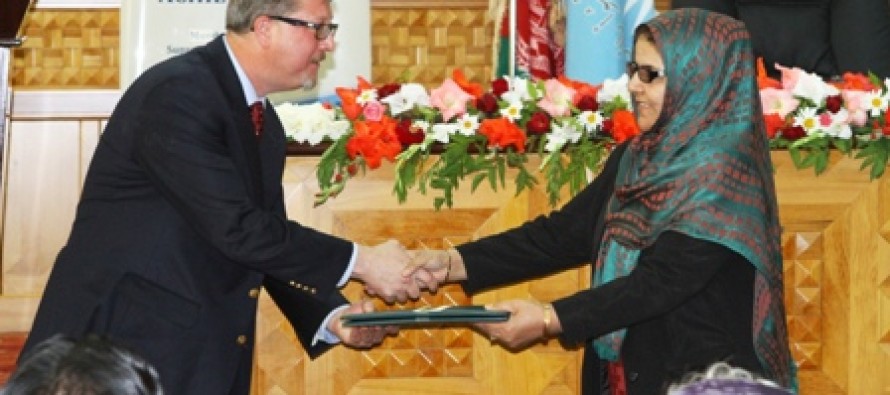 Afghan judges and court administrators joined representatives  from the United States Agency for International Development (USAID) on Monday to celebrate the achievements of the USAID-funded Rule of Law Stabilization-Formal Program during a ceremony at the Supreme Court.
This program trained more than 1,500 judges and court administrators in all 34 Afghan provinces and provided support for the newly established Afghan Women Judges Association.
"We are pleased with what USAID has done through the Rule of Law Stabilization-Formal program in the past four years to effectivly strengthen the country's justice system. The Afghan people will never forget this assistance. We hope these kinds of projects will continue in the future so next generation can benefit from these sustainable achievements," Dr. Abdullah Atayee, Administrator General of the Supreme Court remarked.
Working to enhance the capacity of the seventeen Law and Sharia Faculties within Afghanistan's public universities, the Rule of Law Stabilization-Formal Program provided support for legal clinics, law libraries, and computer labs.
"With USAID support, Afghanistan has introduced key reforms and improved education for the next generation of judges, prosecutors, defense lawyers, court administrators, and public legal outreach officers. We are very proud of the achievements made in Afghanistan's justice sector in the past decade and we look forward to many more years of partnership,'' USAID Deputy Mission Director James Hope said at today's ceremony.
Since 2010, USAID has collaborated with the Supreme Court of Afghanistan, the Ministry of Higher Education (MOHE), and the Ministry of Justice (MOJ) to strengthen the formal justice sector by developing the capacity of current and future judges, court administrators, and Law and Sharia faculties, as well as increasing the public's confidence in the formal justice system.  The Rule of Law Stabilization-Formal Program will be completed next month but USAID will to continue support the development and strengthening of Afghanistan's justice sector.
---
---
Related Articles
Deputy Chairman of the Afghanistan Chamber of Commerce and Industries (ACCI), Khan Jan Alokozay, regarded Chinese investment as important for
Kandahar's power department officials claimed that the department faces millions of losses every month, as some government agencies and citizens
The Afghanistan Investment Support Agency (AISA) has informed that Khost now offers vast investment opportunities compared with the past decade.