Afghan scholars can play a key role in good governance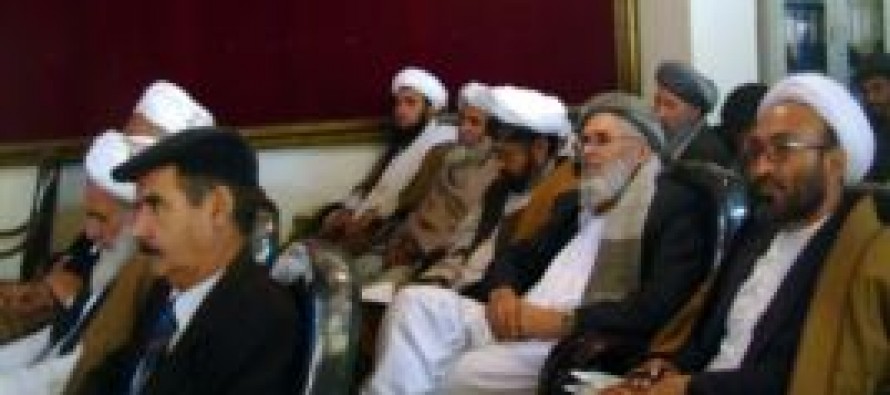 Ministry of Education holds a three-day seminar under the title of "Role of Scholars in Good Governance".
According to the Ministry' officials, Islamic scholars can play a key role in good governance by preaching and raising awareness about it among the general public.
Deputy of Islamic Teachings Department of the Ministry Dr. Mohammad Shafiq Samim said that participants of this seminar are given a platform to express their views and provide suggestions on good governance.
"In the search for solutions to social problems in the country, we are having a dialogue with some of the great scholars of the country in this seminar. It is a consultative seminar aimed at getting advices about good governance," said Dr. Samim.
Some of the participants include Nematullah Shahrani, senior advisor to the president, Women Affairs Minister, deputy ministers of Information and Culture Ministry and Haj and Religious Affairs Ministry, and members of the National Council.
According to Ministry of Education officials, about 1,000 scholars from 8 provinces of Afghanistan have gathered in this seminar.
Meanwhile, MP Abdulwahab Urfan said that the role of scholars is vital in good governance for implementation of law and justice and elimination of corruption in the country.
Only the scholars can reform the society through wide preaching, he added.
"We don't have the right to express ourselves in many situations. Therefore, in this seminar we should have discussions. If we discuss, we can eradicate injustice, inequality, violence and conflicts. If we want to see a united Afghanistan and we want to attract opposition parties to the government, no one can do this better than our scholars."
The scholars can educate people about fight against corruption and good governance through teachings in the mosque and religious schools.
According to the Education Ministry, there are more than 900 religious schools around the country.
---
---
Related Articles
The Ministry of Finance has warned to shut down 5 hotels and restaurants operating in Kabul City if they do
By Mohammad Naeem: Kandahar province has witnessed a boost in fig production and an improvement in the product's quality. Orchard
Afghan Mines Minister Waheedullah Shahrani had led a delegation to Sydney, Australia to attend a mining development conference there next