Afghan school nominated for the Aga Khan Award for Architecture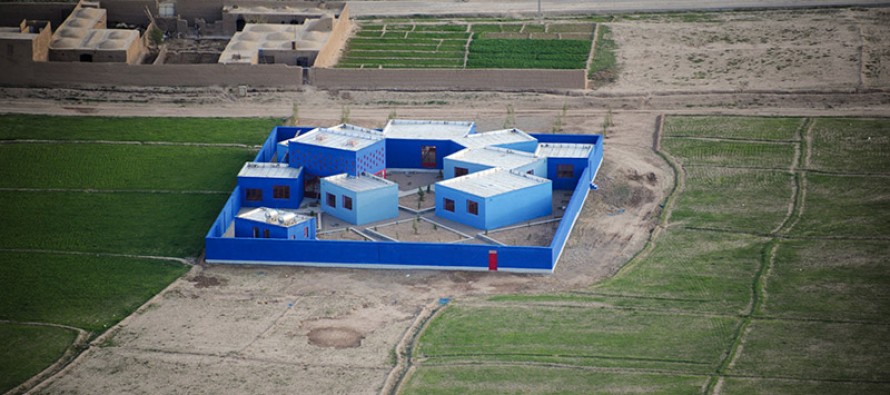 A school in Herat has been shortlisted for the 2013 cycle of the Aga Khan Award for Architecture.
Announced on April 30 in Lisbon, the school is one of 20 other projects selected worldwide.
Built in honor of Italian journalist Maria Grazia Cutuli, murdered in Afghanistan in 2001, this school represents an alternative approach to emergency school design for war-torn areas. Like a small village, the complex is intended to resemble an unplanned juxtaposing of elements enclosed by a boundary wall. It accommodates eight classrooms, various staff accommodation, a double-height library and a garden which acts as a 'green classroom'. Built of reinforced concrete with brick cladding, the structures are painted rather than rendered, to save costs. The walls' range of blue tones reflects the 'lapis lazuli' pigment used on local pottery, while window frames are in contrasting red.
The innovative school was built as an homage to Maria Grazia Cutuli. The school's designed is like a small walled village, giving students everything they need inside the complex, which not only helps to protect but is also necessary in the remote area.
Eight classrooms center around an interior courtyard, which is used for an outdoor classroom, recess and breaks. A garden brings a blast of greenery, but also serves as a green classroom, giving children a lesson in agriculture and sustainable farming. The central library is double height, allowing natural light to filter within through dozens of windows.
The school acts as a safe haven for children in the war-torn country, providing a safe and innovative place to learn.
The shortlist of nominees for the 2013 cycle of the Aga Khan Award for Architecture was announced today at the Palacio das Necessidades (the Ministry of Foreign Affairs) in Lisbon, Portugal.  The 20 nominees for the US$ 1 million prize range from a modern high rise apartment block to the revival of traditional building techniques.   Shortlisted projects, which are selected by an independent Master Jury, are located in Afghanistan, Austria, China, India, Indonesia, Iran, Lebanon, Morocco, Palestine, Rwanda, South Africa, Sri Lanka, Sudan, Syria, Thailand and Yemen.
The shortlist includes:
Maria GraziaCutuli Primary School, Herat, Afghanistan
Islamic Cemetery, Altach, Austria
Museum of Handcraft Paper, Gaoligong Mountain, China
Rehabilitation of Nagaur Fort, Nagaur, Rajasthan, India
Preservation of the MbaruNiang, WaeRebo Village, Flores Island, Indonesia
Apartment No.1, Mahallat, Iran
Rehabilitation of Tabriz Bazaar, Tabriz, Iran
Reconstruction of Nahr el-Bared Refugee Camp, Tripoli, Lebanon
Hassan II Bridge, Rabat, Morocco
Mohammed VI Football Academy, Salé, Morocco
Preservation of Sacred and Collective Oasis Sites, Guelmim Region, Morocco
Revitalisation of Birzeit Historic Centre, Birzeit, Palestine
Umubano Primary School, Kigali, Rwanda
Mapungubwe Interpretation Centre, Limpopo, South Africa
Post-Tsunami Housing, Kirinda, Sri Lanka
Salam Centre for Cardiac Surgery, Khartoum, Sudan
LycéeFrançais Charles de Gaulle, Damascus, Syria
Kantana Film and Animation Institute, NakhonPrathom, Thailand
The Met Tower, Bangkok, Thailand
Thula Fort Restoration, Thula, Yemen
FarrokhDerakhshani, the Director of the Award, remarked: "The Master Jury, which includes some of the most prominent architects of our time, made interesting choices this year. For example, they chose schools in Afghanistan and Syria, but they also chose a hospital in Sudan, a high rise in Bangkok and the reconstruction of a refugee camp in Lebanon. In many ways, the choices reflect a central preoccupation of the Award: the impact of buildings and public spaces on the quality of life. Now this seems fairly mainstream, but we must remember that the Aga Khan Award has been talking about 'human scale' and 'sustainability' since 1977".
The Award's mandate is different from that of many other architecture prizes: it selects projects – from innovative mud and bamboo schools to state of the art "green" high-rises – which not only exhibit architectural excellence but also improve the overall quality of life. Since the Award was launched 36 years ago, over 100 projects have received the award and more than 7,500 building projects have been documented.
The shortlisted projects are now being technically reviewed by a select group of architects, urban planners and engineers. The reviews, which emphasise both the impact on the quality of life and architectural excellence, will be submitted in June to the Master Jury for closer evaluation. Five to six finalists will then be selected and announced at a ceremony to be held in Lisbon in September 2013.
Images and additional information about the shortlisted projects are available at: http://www.akdn.org/architecture/awards.asp?tri=2013.
The Awards are selected by an independent Master Jury appointed by the Steering Committee for each three-year Award cycle. The nine members of the Master Jury for the 2010-2013 Award cycle are:
Mr. David Adjaye, Principal, Adjaye Associates, London, United Kingdom
Dr. Howayda al-Harithy, Professor, Department of Architecture and Design, American University of Beirut, Lebanon
Mr. Michel Desvigne, Landscape Architect and Founder, Agence Michel Desvigne, Paris, France
Professor MahmoodMamdani, Professor and Executive Director, Makerere Institute for Social Research (MISR), Wandegeya, Uganda
Mr. KamilMerican, Principal Designer and CEO, Group Design Partnership, Kuala Lumpur, Malaysia
Professor Toshiko Mori, Principal, Toshiko Mori Architect, New York City, USA
Ms. ShahziaSikander, Artist, New York City, USA
Mr. Murat Tabanlioglu, Architect and Founder, Tabanlioglu Architects, Istanbul, Turkey
Mr. Wang Shu, Architect and Founder, Amateur Architecture Studio, Hangzhou, China
Full biographies of Master Jury members can be found online at: http://www.akdn.org/architecture/jury.asp
---
---
Related Articles
The National Union of Craftsmen called on the central government to pay more attention to the growth of Afghanistan's handicrafts
The Afghan Ministry of Finance has denied remarks in SIGAR's latest quarterly report, stating corruption in the country hampering Afghanistan's
The National Solidarity Program of the Ministry of Rural Rehabilitation and Development (MRRD/NSP) recently completed 10 development projects in Gosfandi,