Afghan street children, orphans gather for Children's Day celebration in Mazar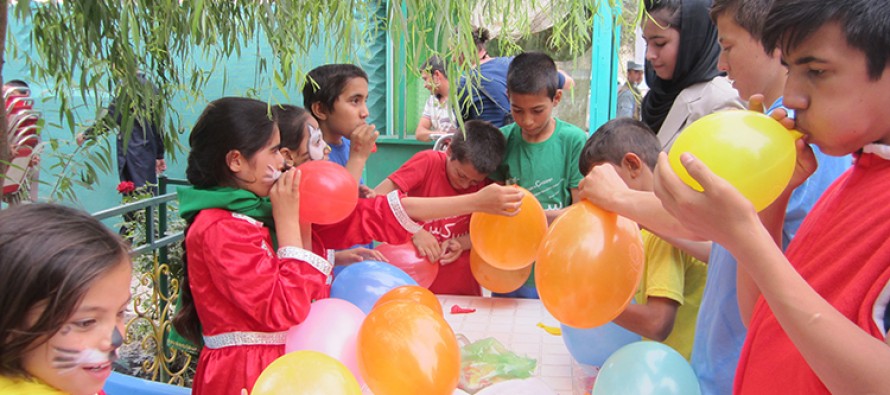 Street children and orphans were gathered for Children's Day celebration in Park-e-Ariana, Mazar-Sharif.
About 400 people attended the event, 300 children alone. More than 60 children actively participated in the program. The children had the opportunity to express their concerns and perceptions via theater plays, games and a roundtable with special guests including head of the Afghan police, the Ministry of Education and imam of the Blue Mosque, Atiqullah Ansari.
The children highlighted the lack of public awareness of children and their rights as members of the society and called for more proactive measures to address their issues.
"I enjoyed this event. I spent a great time in the park and I could make people listen. I would like to see more similar programs focusing on street children and orphans," said one of the children.
Imam Ansari stressed that street children should be respected as they did not choose the conditions they live in voluntarily. He requested for more such initiatives that support street children and offer education.
The children wrote and drew their wishes, asking for a dignified coexistence in their town. They had the opportunity to be more creative and sportive by making music, doing paintings, participating in theater plays, juggling, skateboarding, playing football and participating in acrobatics.
The activities were diverse, aiming at strengthening children's self-esteem. Before this event, local media trained 24 children in raising their voices and they had an opportunity to be seen and heard on TV, on radio or in newspaper.
International aid organizations estimate about 60,000 children in Afghanistan to be living on the streets. Approximately, 1.6 million children are orphaned due to years of war and military conflicts.
The German government is financially supporting projects that help address children's rights in Afghanistan.
Together with six local non-governmental organizations and nine media companies, this event was organized by the German funded project Rule of Law. On 4th of June, a second event celebrating International Children's Day will take place in the youth detention centre JRC in Mazar-e Sharif.
On behalf of the German Federal Ministry of Economic Cooperation and Development (BMZ), the Afghan-German cooperation has been working together with the Afghan government to promote Rule of Law in Afghanistan. Since 2003, the project has been supporting the Ministry of Justice of Afghanistan in its efforts to ensure access to justice for all citizens. This is done through supporting further access to justice as well as improving the professional capacity of justice sector staff. At the same time, legal awareness of citizens is strengthened.
---
---
Related Articles
Provincial authorities together with the director of Taloqan River Basin Agency (TRBA) inaugurated a flood protection wall in the city
Built nearly 60 years ago, the Kandahar airport was in need of projects to provide modern-era services. New facilities such
Afghanistan's electricity company, Da Afghanistan Breshna Sherkat (DABS), installed two new electricity transformers in western Herat province. Funded by DABS,