Afghan students protest against Kankor exam results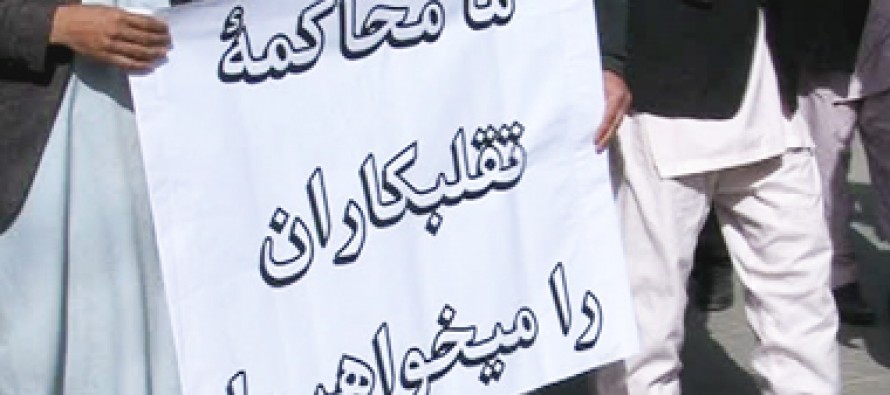 Hundreds of students took to the streets of Kabul protesting against Kankor exam results that were recently released.
Kankor exam is the nationwide tertiary entrance exam.
The protesters alleged that the results were fraudulent and urged the government to appoint a delegation to investigate the Kankor commission.
The 16 students from Daikundi that made it in the top 20 mark out of 34 provinces and 175,000 students were the highlight of the protest.  
"We do not accept the results", "We want the cheaters to be prosecuted," and "The results must be cancelled" were some of the slogans chanted.
"The government should dismiss the Minister of Higher Education," said one protester.
"We will continue to protest if the government does not listen to our demands. A delegation must be appointed to investigate the commission and introduce them to the Attorney General's office," said another.
Meanwhile, the Ministry of Education has rejected the accusations and said more than 500 students who were caught cheating have been identified and referred to the Attorney General.
'We will never cancel the results," said spokesperson to the Ministry Abdulazim Noorbakhsh.
Kankor examination results have previously been alleged for selling exam questions, influential figures putting pressure to change results and general cheating.  
Last year, Office of Oversight and Anti-Corruption had cited Kankor exam as the main root of corruption within the Ministry of Higher Education.
"This process should be cancelled and instead of the Kankor exam, those students of classes 9, 10, 11, and 12 that score more than 7 [out of 10] should be introduced to their favorite faculties directly," said Azizullah Lodin, head of High Office of Oversight and Anti-Corruption.
---
---
Related Articles
The Afghan Ministry of Public Works (MoPW) announced Thursday that survey of the Afghanistan-Tajikistan-Turkmenistan railway would begin soon. "A foreign
The Ministry of Finance today signed a grant agreement of $55 million with the World Bank. The grant is being
Afghanistan and Pakistan officials have agreed on collaborating in the field of higher education by embarking on a joint venture,