Afghan traders protest at Sher Khan dry port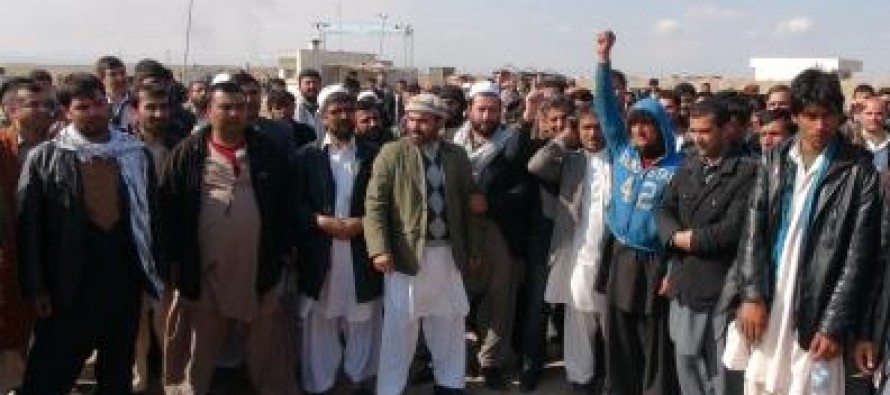 Nearly a hundred Afghan traders gathered on Monday at the Sher Khan Dry Port, where hundreds of their vehicles carrying sugar, tangerines, vegetables and fruits are stopped by the customs department.
The protestors accused the customs department for hampering their exports to Tajikistan, despite the fact that they had already paid customs duty to the government.
A representative of traders, Haji Raees Khan, told Pajhwok Afghan News the customs department had no reason for stopping the trucks. The department had received customs duty, he said, asking if the shipments had been banned, why traders were taxed.
However, Customs Director Wakman Shagiwal said the ministries concerned had instructed them not to allow the export of Pakistani products such as cements, Kinos, sugar and potatoes through the port.
"The wholesale purchase of imported goods in local markets and exporting them to Central Asian countries causes a price hike in the country. As a result, we have stopped the exports," he said while quoting a letter from the Ministry of Commerce and Industries.
But Raees said: "We can prove that these items were not bought in local markets. We have documents proving that they have been brought them from Pakistan for exports to Central Asia."
A Tajik driver, Daulat Mohammad, said the government charged $150 customs in duty on each vehicle. "Over the past 10 days, we could have travelled four times from Afghanistan to Tajikistan, depriving the government of much-needed revenue."
---
---
Related Articles
On April 21st, 2013 in the presence of Mr. Begzad, the Governor of Takhar Province, parliamentarians of Takhar province, Provincial
According to the Pajhwok Afghan News, two schools reopened in the Panjwai district of southern Kandahar province. The schools were
USAID hosted the National Agriculture Education, Research, Extension and Economic Conference on July 15-17, 2019 to bring together experts to