Afghan widow beekeeper refuses to beg and starts her own business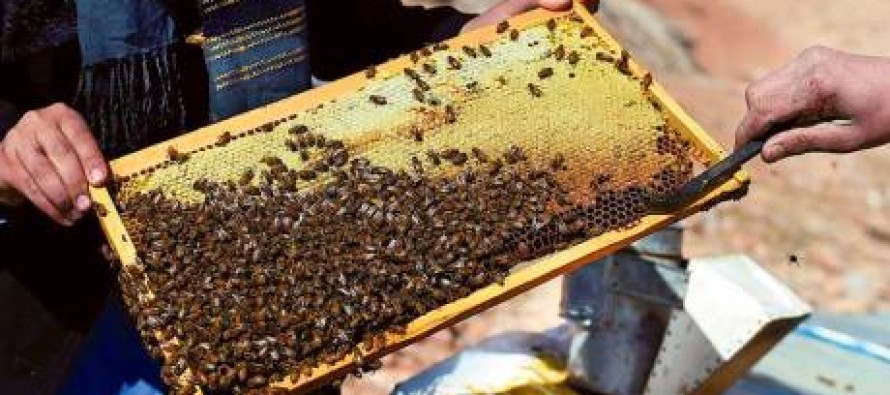 An Afghan widow beekeeper has started her own honey production business, and in addition to meeting her family's financial needs she has offered employment opportunities for several men.
In an exclusive interview with Pajhwok Afghan News, Sherino said she lost her husband, who was a military office, in line of duty 25 years ago.
The 50-year-old refused to marry again and raised her only son by herself. She started her beekeeping venture to prove that widows don't have to beg or rely on others for financial support.
She received eight boxes of bees from an organization called IDEA NEW eight years ago. Her business picked up immediately and the number of boxes has gone up to 55.
She has appointed three trainers in Batikot district of Nangarhar province and she hopes to appoint more workers if her business picks up.
Selling pure and natural honey, Sherino is confident that her number of customers will grow further.  However, she does the processing and packing of honey manually, which affects her productivity.
"I have grown in confidence as many people come to my home to buy honey. I also send some of the honey to shops, though our production level isn't that high," Pajhwok quotes Sherino.
---
---
Related Articles
Herat's Governor, Mohammad Asif Rahimi, announced Thursday that construction work would soon kick off on the much-awaited Salma Dam project,
Japan has pledged USD 3mn and 400 thousand in aid to Herat's municipality. The aid is aimed at urban development
The United Nations World Food Program (WFP) welcomes a contribution of US$12 million from USAID's Bureau for Humanitarian Assistance in