Afghan woman receives "Jewels of Muslim Awards"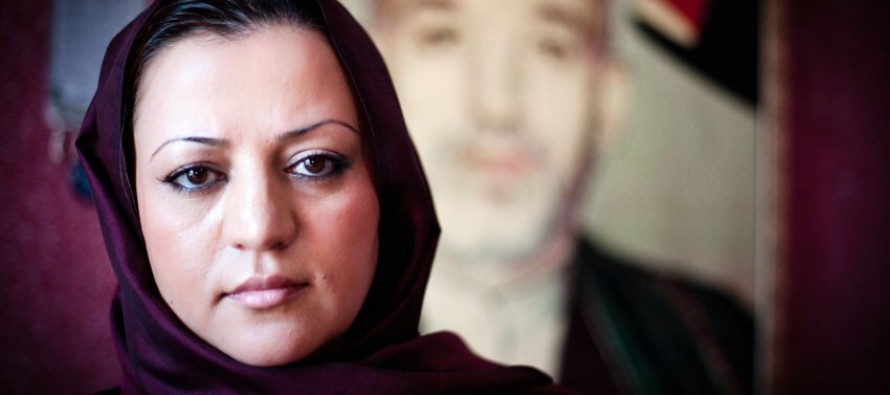 Afghan woman, Maria Bashir, received the 'Jewels of Muslim Worlds Award' during the sixth Muslim World Biz 2015 in Malaysia on Tuesday.
The award recognizes the works of those who contribute to the Islamic societies and economies through their talents, intellectuals, merit and wealth.
Bashir was the former Chief Persecutor General of Afghanistan's Herat Province. She has been the only woman to ever hold such a position in the country as of 2009. She has  dealt with the Taliban, corrupt policemen, death threats and failed assassination attempts during her 15 years of experience with Afghan Civil Society.
Other recipients included Islamic University of Malaysia President, Tan Sri Prof Mohd Yusof Noor, Felda Global Ventures Holdings Bhd Group President/Chief Executive Officer (CEO) Datuk Mohd Emir Mavani Abdullah, Central Spectrum CEO, Mahmud Abbas, Bosnia Bank International CEO, Amer Bukvic, and Solico Group Founder, Gholamali Soleimani.
Datuk Dr Raja Mohamad Abdullah, the founder of the Muslim World Biz, who passed away in March, was awarded the inaugural Lifetime Achievement Award which was accepted by his wife Datin Nordi Mohamad Hussien.
Organised by OIC International Business Centre, in collaboration with the Government of Malaysia and Islamic Centre for Development of Trade (ICDT), the subsidiary organ of Organization of Islamic Cooperation (OIC), Saudi Arabia, the 6th Muslim World Biz 2015 is projected to enhance the intra trade among the Muslim countries as well as to further strengthen the inter trade among non-Muslim countries. With over 1.7 Billion Muslim population worldwide and a growing affluent Muslim society, the Muslim market is a gold mine waiting to be tapped.
While it is called the 6th Muslim World Biz 2015, the event is not limited to Muslims and Muslim countries alone. The event encourages participation from the non-Muslim countries as one of the objectives of the event is to be the gateway to the Muslim market for business entities from around the world.
In his Launching speech, Yang Berhormat Datuk Ir. Haji Hamim stressed that "The Muslim market is an emerging market with huge potentials. With a population of 1.7 billion, and a combined GDP of over USD 2.0 trillion, the Islamic countries have the potential of being a major global economic power. With that in mind, events like the 6th Muslim World Biz 2015 are heading in the right direction to make Malaysia the Business & Investment Hub and to tap into the Muslim market. Being a Muslim majority country, Malaysia has the advantage in this region and we should look at supporting and participating in this kind of events like the 6th Muslim World Biz 2015 so that we, the 2 government as well as the private sector do not miss out on this golden opportunity to increase our business trade & investment."
---
---
Related Articles
Provincial authorities together with the director of Taloqan River Basin Agency (TRBA) inaugurated a flood protection wall in the city
The Construction Sector Transparency Initiative (CoST) of Afghanistan signed an agreement with the Ministries of Rural Rehabilitation and Development and
Ten women and eight men received advanced diplomas in Public Policy and Administration from Kabul University on Wednesday to become