Afghan Woman Spends 7 Years On Making a Dress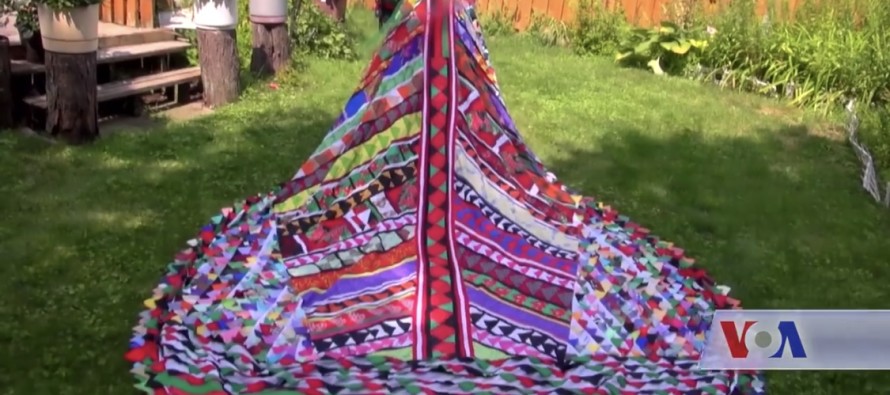 An Afghan woman in Canada spent 7 years on making a dress for her daughter for her birthday. 
Ayesha Barlas learned tailoring from a very young age in Badakhshan province of Afghanistan where she finished high school and did two years of teaching training courses. 
She moved to Canada in 2005 where she learned English and also took tailoring classes. She aspired to create a unique piece that would attract everyone's attention and that would have a message to the world about Afghanistan. 
Ayesha wanted to make a quilt out but her daughter asked her to make a dress for her.
The dress, which weighs 7 kilograms, is made out of 4,000 pieces of clothes from 600 different clothes that people wanted to throw in the trash but she gathered them. 
"These different pieces are stitched together and have produced a beautiful dress. Afghanistan can also become beautiful country without any war if all the different ethnicities came together and stayed united," said Ayesha. 
Many people have wanted to buy this dress. One had even offered &100,000 for the dress and place it in a museum. 
"I don't have the heart to sell it. I want the dress to be recorded in the world records," said Ayesha. 
If she ever decides to sell the dress, she wishes to donate it for the betterment of Afghan women in Badakhshan.  
---
Related Articles
Three development projects were completed in the remote district of Bangi in Takhar province Over the past months, the local
Residents and officials complained that the 22km road linking Lashkargah with Nawa district in southern Helmand province is constructed with
With the Eid-ul-Adha approaching, thousands of goats, cows and sheep are brought into the markets in Peshawar to sell. Hundreds