Afghan Women Entrepreneurs in Balkh Province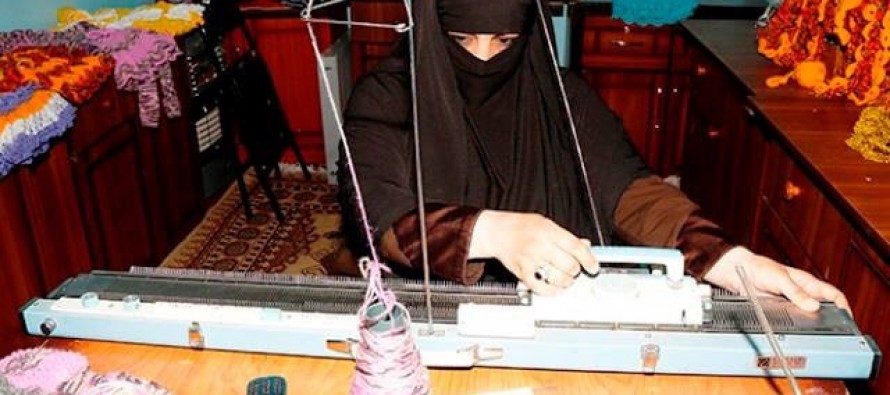 Through the UK funded business support program in Balkh, women like Raqiba, a mother of seven, are becoming successful entrepreneurs.
Although Raqiba had worked as a shopkeeper, she did not have the experience of running a professional business until four years ago, when she was trained in a program supported by the Afghanistan Rural Enterprise Development Program (AREDP).
For the last four years she has been selling Balkhi women's handicrafts in her shop in Rabia Balkhi marketplace in Mazar-e-Sharif city, a market dedicated to female shopkeepers.
Ten years ago, however, Raqiba was the only female shopkeeper in the city. Mazar-e-Sharif municipality provided her with a shop downtown, where she worked for six years. She now runs a small business which provides job opportunities for 40 other women who live in rural areas on the city outskirts. These women earn an average of between 1,000 Afghanis ($18) and 4,000 Afghanis ($70) a month.
Raqiba uses raw materials she imports from India, Pakistan, and Iran to produce various handicrafts including vases and cloth. Every item in Raqiba's shop is made by her creative colleagues whom she trained in tailoring, knitting, needlework, and embroidery.
Soraya Noori is one of the trainees whom Raqiba, with support from AREDP, trained in knitting winter wear. She has a home-based knitting company now and produces winter clothes using knitting machines. Soraya says: "Before, we used to hand-knit clothes, which required more work and took a long time. But now we knit more clothes in less time."
Support from AREDP has helped Raqiba to expand her business, including managing her financial accounts. Raqiba says: "People have seen my work from the beginning. My work has changed so markedly and has improved after the training."
Habiba Rasuli was also trained in knitting by Raqiba and is considered a master. She now runs her own handicraft and clothes shop in the market. She says: "Many women have been able to develop their own handicraft business in Rabia Balkhi marketplace"
The UK is a key donor to the Afghanistan Rural Enterprise Development Program (AREDP), which is funded through the Afghanistan Reconstruction Trust Fund (ARTF).
---
---
Related Articles
Qurban Mohammad Haqjo, Head of the Afghan Chamber of Commerce and Industries (ACCI), announces his resignation. According to Khaama Press
Afghan Islamic Press-The Etisalat Afghanistan started a volleyball championship here in Jalalabad on Tuesday . The volleyball championship was launched
The customs office of southern Kandahar province has collected 7.82 billion Afghani in revenue this year, indicating a 22.6% increase