Afghan women leaders discuss country's progress in D.C.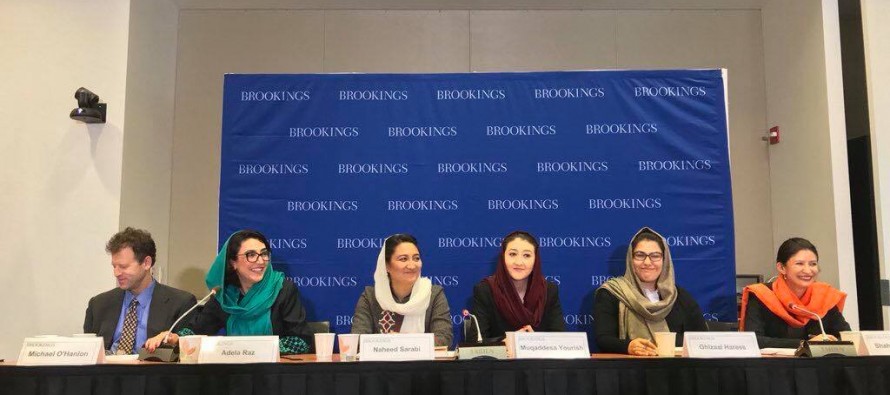 A delegation of Afghan women officials led a discussion about the role of the new generation of Afghan women leaders in the country's progress at the Brookings Institution in Washington D.C.
They shared their  personal stories and their roles and responsibilities and highlighted the achievements and struggles of Afghan women.
The event was hosted by the Foreign Policy program at Brookings, in collaboration with the Georgetown Institute for Women, Peace, and Security and the U.S. and the U.S. Afghan Women's Council.
The delegates included:
The delegates expressed high levels of optimism about Afghanistan's progress and said the change is slow, but it is happening.
"If I didn't have the highest hopes, I wouldn't be here in Kabul," said Ms. Shaharzad Akbar
They said the media focused more on negative stories about Afghan women and urged the audience not to rely on media's portrayal of Afghanistan.
"Let's stop thinking of Afghan women as victims and recipients of help and support that you think they are just survivors, start to think about them as your partners," said Adela Raz.
"I think the women on this panel are a great testimony for Afghanistan moving beyond the victimization of women," concurred Ms. Yourish, "We are empowered."
Raz supported the U.S. recent decision to stand by Afghanistan and said it gives Afghans hope to move forward.
While there has been considerable progress in Afghan women's lives since the fall of the Taliban, Afghanistan is still ranked second-to-last in terms of women's inclusion, justice and security.
Despite the challenges Afghan women leaders are working hard to elevate women's voices.
"We have two jobs: one job is doing our job, our other is doing something for women as well," said Ms. Akbar.
It's worthwhile to mention that women account for 28% representatives in the Afghan parliament, far above the 19% in the USA.
---
---
Related Articles
The implementation of provincial budget policy has kicked off in ministries of agriculture, irrigation, public health, education and rural rehabilitation
During the last 6 months, 100 women in Badakhshan received trainings in tailoring, English and Information Technology (IT) at Faizabad's
Handicrafts made by handicapped Afghan women have been put on display in Kabul on Saturday. Organized by the Bright Future