Afghan women take their place in rural community development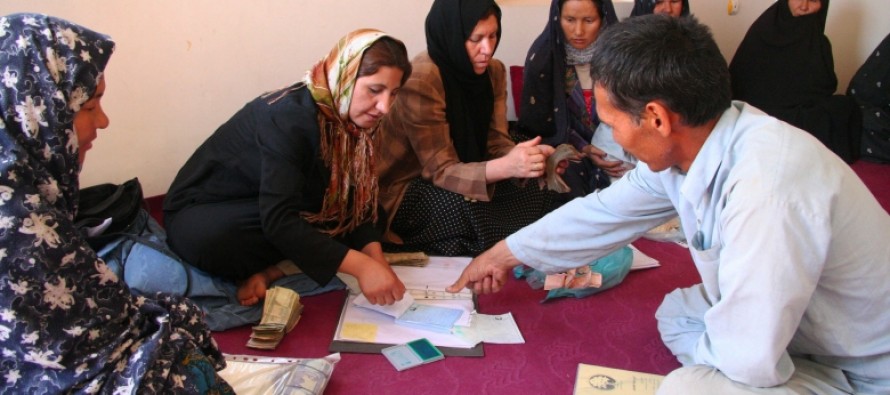 At the Fifth National Consultative Conference of Community Development Councils (CDCs), Fatima Ehsani, 19, drew the attention of participants with her energetic presentation. She confidently addressed senior government officials, including the President, Chief Executive, and ministers, and more than 500 participants on the functions of the CDC in her village.
Fatima Ehsani attended the conference as a representative of Pasaband district in Ghor Province—the most underdeveloped, remote, and deprived province in the country. Despite the remote location and tough terrain, the National Solidarity Program (NSP), through CDCs, has implemented many developmental projects in Ghor Province.
NSP is the Government of Afghanistan's flagship program for rural development. Through implementing development projects all over Afghanistan, it has played an effective role in building capacity and empowering women in a country that remains on the lowest ranks of the human development index with some of the worst social indicators among women and children, who constitute more than half the population.
"NSP, under which the CDCs function, has paid special attention to women in its projects," said Fatima in her speech. "It has organized vocational training programs in dressmaking, embroidery, rug weaving, hand embroidery and other vocations for women in villages. These programs have led to a tremendous amount of capacity being built among women."
Half of CDC membership has been allocated to women, giving them the opportunity to participate in decision-making at village level and to voice their opinions. "NSP has provided a unique opportunity for women to participate in the development process from a government-sanctioned platform, allowing women to gather and discuss their development priorities within a formal framework for the first time and have their concerns taken seriously," said Naseer Ahmad Durrani, Minister of Rural Rehabilitation and Development, to a group of women CDC members during the conference.
The quota has enabled female CDC members to highlight women's issues and needs in the community and include some of these matters in the councils' working agenda. "In a country where most of the women end up as housewives, NSP has managed to improve mobility for women, giving them somewhere legitimate to go on a regular basis, uniting women with a single purpose for the first time," says Mahajan Khairzad, 40, a CDC member representing Balkh Province at the conference.
Women face challenges
There are, however, many challenges that continue to undermine women's role and status in the community. There are still not enough women who can or are willing to join the CDCs to meet the 50 percent quota. Some CDCs run without the 50 percent presence of women. Further, women have needed more time and training to build their capacity to engage with and manage the development process in their community, given their limited roles before.
The threat of violence or abuse is also an indirect but ever present factor, limiting women's voice, mobility, and ability to be proactive. Men's patriarchal attitude in certain parts of the country also have limited the space and opportunity for women, leading to lower presence and less confidence in women in decision-making.
"Although NSP has brought numerous opportunities to women, a large number of women still remain confined to their homes, especially in the insecure parts of the country," says Nadia, 25, from Malistan district in Ghazni Province. "They are denied the right to offer their viewpoints."
Change in men's perceptions
Nonetheless, changes in women's status, albeit slow, are happening across the country. As Ghulam Rasoul Rasouli, NSP Acting Executive Director, points out: "Against this backdrop, NSP has achieved unprecedented, widespread involvement of women in rural Afghanistan's community decision-making apparatus, which aims to promote equal representation of women in the CDCs."
CDC members agree that NSP training has familiarized women with issues that enable them to participate more effectively in community life. A good example is Qudsia, 38, a CDC member from Dawlatabad district in Balkh Province, who has been involved in the development of her community since she joined the council. She was in charge of financial affairs of a project to build a road in her village, and also monitored the implementation of the project along with her male peers in the CDC.
"In the beginning, men were under the assumption that women are not capable of performing at the councils because they have spent most of their time at home," says Qudsia, "but when men saw how they performed, their misconception about women's capabilities changed. Now we women get together every month to identify problems concerning us and find a way to solve them."
NSP also has provided many women with the possibility to learn skills or become literate. Infrastructure projects have changed the quality of life for women and men in communities across Afghanistan. "Many of the women in our district were able to learn dressmaking and embroidery as a result of their extensive participation in NSP projects. The skills they acquired have enabled them to make money to run their homes," says Golalai Sherzad, 43, from Helmand Province.
The National Solidarity Program (NSP), under the Ministry of Rural Rehabilitation and Development (MRRD) is in its third phase and aims to generate a strong sense of ownership and social stability while enhancing service delivery and security through empowerment and development activities that communities identify, plan, manage, and monitor on their own. It is supported by the International Development Association (IDA), the World Bank Group's fund for the poorest countries, Afghanistan Reconstruction Trust Fund (ARTF), Japanese Social Development Fund (JSDF), and a number of bilateral donors.
Source: World Bank feature story
---
---
Related Articles
The Afghan government has launched a project worth USD 12mn to transfer electricity from capital Kabul to Logar province. The
The carpet-processing factory, a US-funded project, was inaugurated on Saturday in the industrial park in Western Herat. The factory is
The Minsitry of Counternarcotics established a 20-bed rehabilitation center in Maidan Wardak province. The facility consists of 17 rooms, a