Afghan women's business flourished by small loans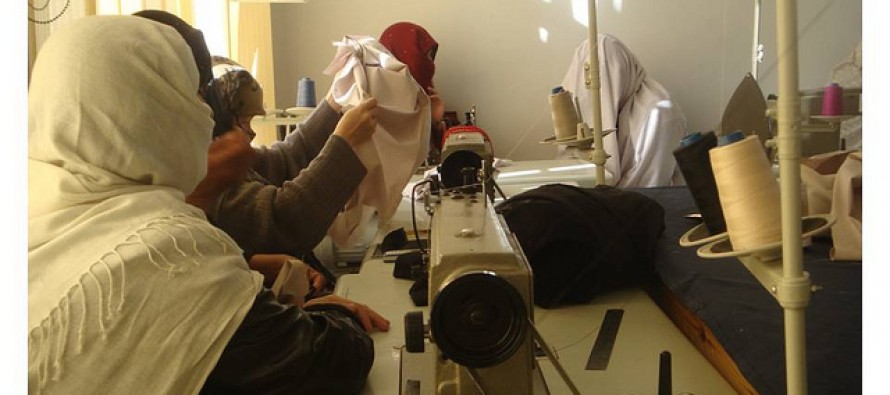 A number of Afghan women have achieved impressive progress in their business using the small loans provided to them.
Small loans ranging from 25,000 AFN to 250,000 AFN are made available through four representatives of the Microfinance Bank operating in Kabul city.
Women, who have obtained loans, requested the bank to continue such services and to extend the duration of the repayment period.
Soraya and Pari Gul are two of the women who have relied on the Microfinance Bank to flourish their business. Soraya invested the loan money in improving her beauty parlor, situated in Shahr-e-Naw (New City) of Kabul. And, Pari Gul has expanded her handicraft and tailoring business.
"This is the third time I am obtaining loans. My business has seen a 90% progress since I started taking out loans," said Soraya.
"My first loan was 25,000 AFN. Today, I am eligible to receive 250,000 AFN. I am satisfied with the services this bank offers us. My income has increased and my living standard has gone up," said Pari Gul.
According to the Microfinance Bank officials, the purpose of small loans services is to reduce poverty in the country.
Mohammad Nadir Parsa, Head of the lending agency in Taimani area, said the lending services are only available for micro-entrepreneurs.
He said Microfinance Bank began its operations in Kabul in 2004 and has managed to attract thousands of customers since then.
"We have about 4,000 customers, of which 1,500-1,800 are women. About 45% of our customers have not previously received loans from us. Our lending services are only offered to emerging businesses."
Meanwhile, a number of artisans complain that there are a limited number of lending institutes in the country. Furthermore, most of the loans are due back within 6-12 months.
Microfinancing has been widely recognized in the last 30 years as a just and sustainable solution in alleviating global poverty. Microfinance organizations around the world make it a priority to serve the particular needs of women, since a staggering 70% of all those living in extreme poverty are female. Women are often excluded from education, the workplace, owning property and equal participation in politics.
Nonetheless, it has been proven that cycles of extreme poverty have been interrupted successfully by targeting female entrepreneurs. When women improve their circumstances, they also improve the lives of their children. By investing in nutrition and education, they help to create a better future for their children and their communities.
---
---
Related Articles
The Meshrano Jerga or the Senate has given their approval for next year's budget beginning on December 21. The government
Afghan carpets were recognized as the best rugs and secured the first position during a Middle East exhibition in Dubai.
Construction work on Managi power dam in Watapur district of Kunar province has officially begun. The dam is expected to