Afghan women's income improves with increase in saffron yield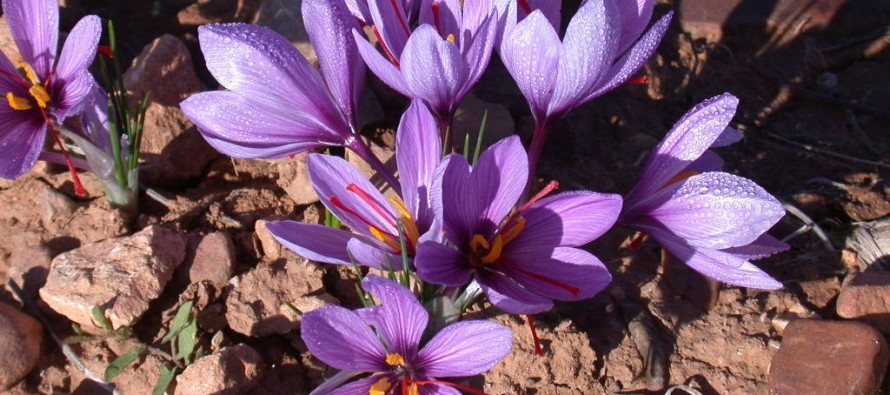 Women in northern Jawzjan province have witnessed a considerable increase in their income with three-fold increase in saffron yield.
According to Pajhwok Afghan News (PAN), saffron corms were distributed to 200 farmers, including 125 women, as a pilot project in 2013.
In 2013, each 100-square meter plot of land produced 50 grams of saffron. The yield rose to 120 grams in 2014 and to 150 grams in 2015.
The total production of the 200 farmers in the current year accounts for 4.5mn worth of income.
Hafiza, a resident of Jawzjan capital Sheberghan, earned more than 40,000 AFN income from selling saffron.
"I have been given all cultivation equipment and have learned how to grow saffron I am a widow. Previously, I would work in houses to make a livelihood for my family, but now I can meet my daily needs from this income," PAN quotes Hafiza.
The Government of Afghanistan and international community have been trying for some years to increase saffron production as well as raise awareness of its benefits. This is aimed at discouraging farmers from poppy cultivation and reducing poppy in the country. According to the United Nations Office for Drug and Crime, Afghanistan is among the top poppy producers in the world.
Initiatives, such as the Afghanistan Rural Enterprise Development Program (AREDP) that operates within the framework of the Ministry of Rural Rehabilitation and Development (MRRD) and supported by the World Bank and Afghanistan Reconstruction Trust Fund (ARTF), are geared towards expansion of Afghanistan's licit industries in order to reduce poppy cultivation.
For more information on saffron as a source of income please click here.
---
---
Related Articles
The Office of the International Chamber of Commerce (ICC) was formally inaugurated in Kabul on Thursday in presence of senior
Norwegian Foreign Minister Børge Brende announced Sunday that his country has pledged USD 110mn in aid to Afghanistan for the
The World Food Program (WFP) has welcomed a contribution of USD 20 million from the Government of the United States