Afghan women's participation instrumental for economic development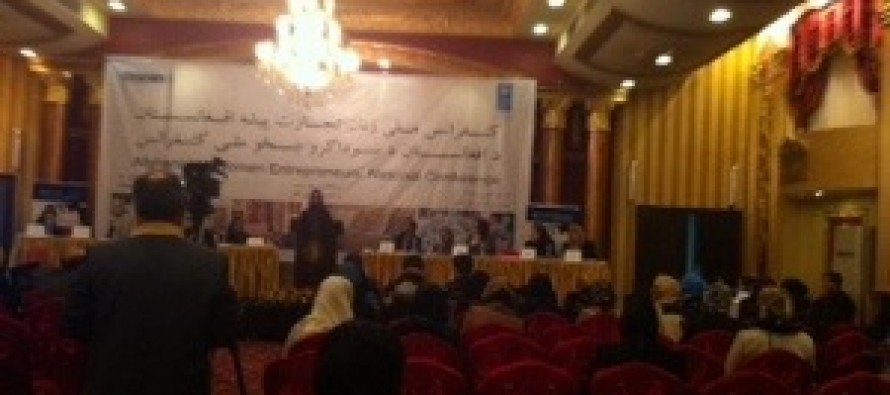 The role of Afghan women in the development of Afghanistan's economy was highlighted at the Afghanistan Women Entrepreneurs' National Conference in Intercontinental Hotel in Kabul.
Over 300 Afghan women entrepreneurs had gathered to reflect on their achievements and draw attention to their existing challenges.
Organized by the Afghan Chamber of Commerce and Industries (ACCI) and the United Nations Development Program, the conference called for magnifying women's participation in various economic sectors in an attempt to fight poverty and attain higher productivity.
"Increasing women's participation in our economy will enable us to boost our productivity and become self-sufficient," said Economy Minister Abdul Hadi Arghandiwal.
While many Afghan women have retained their positions in the society after the fall of the Taliban, some still remain to be victims of domestic violence and discrimination at male-dominated workplaces.
However, some Afghan women have had remarkable achievements that should not be overlooked.
Health Minister Dr. Soraya Dalil pinpointed women's success in the health sector since the establishment of the new Afghan government.
According to Minister Dalil, women form 25% of the 26,000 personnel working for the Health Ministry. Of the 278 private hospitals in the country, 14 are run or owned by Afghan women. Afghan women run 110 pharmacies out of 12,000 pharmacies that operate across Afghanistan. Five pharmaceutical industries are owned by Afghan women.
Some of the panelists urged for a stronger Public Private Partnerships (PPPs) to leverage resources to meet critical needs of Afghan women and address some of the challenges.
ACCI Chief Mohammad Qurban Haqjo proposed a number of solutions to the current problems that impede women's progress in economic spheres.
Increasing access to finances to fund their businesses
Increasing access to better and larger markets for their products
Increasing access to higher education
Increasing participation of women in national and international conferences  concerning both the public sector and private sector
Bringing cultural changes by spreading a positive mindset about allowing women to enter labor market and work together with men and embark on careers that are traditionally held by men
Establishing business development service providers to assist Afghan businesswomen in completing necessary paperwork, paying taxes, getting licenses etc.
Ensuring security for Afghan women in public places and in workplaces, where "catcalling" is common
Political candidates' incorporating economic policies concerning role of women in their agenda
Establishing designing centers in the capital and in provinces to help Afghan women in making more creative handicrafts in accordance to the demands of both local and international consumers
Providing marketing skills to help Afghan women get a better understanding of where to sell their products and how
Setting up a committee comprised of representatives from concerned ministries, ACCI and Afghan businesswomen network to ensure proper implementation of policies and mechanisms aimed at empowering women
Strengthening cooperation and coordination among the businesswomen to allow for a stronger advocacy of their rights
Ensuring presence of women in the High Economic Council
Afghan women had put on display their various products, such as handicrafts, dry fruits, embroideries, and jewelries at the exhibition, which was inaugurated after the conference.
---
---
Related Articles
As many as 330 rehabilitation and development projects are planned to be executed in southeastern Khost province. Rural Rehabilitation and
A fire incident ripped through a major fuel market in Kabul city has resulted in millions of dollars of losses
With a cost of 16 million AFN, 15 projects of the National Solidarity Program of the Ministry of Rural Rehabilitation