Afghani currency picks up after NUG announces cabinet nominees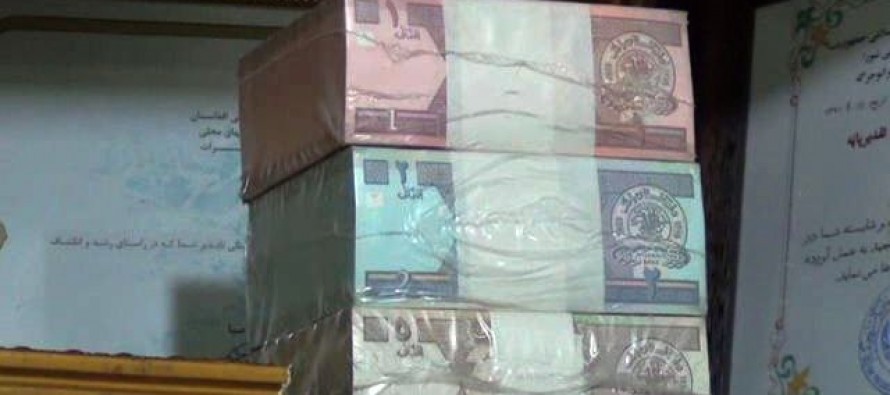 The value of Afghani currency increased immediately against the US dollar after the National Unity Government (NUG) announced its cabinet nominees.
Even after the end of the elections the Afghani currency failed to gain momentum. The delay in formation of the cabinet only added to the decline in the value of Afghani against the US dollar.
The Afghani is currently valued 57.85 against the US dollar, while it had even reached 59 in the past month.
Meanwhile, a number of businessmen and traders also said business activities have begun to increase after the announcement of the cabinet nominees.
Afghans are optimistic about the formation of the new government and believe that the economic situation of Afghanistan will soon improve.
It took President Ashraf Ghani and Chief Executive Officer Dr. Abdullah Abdullah three months to announce the cabinet. The impasse resulted in speculations about possible rift between the two over distribution of key portfolios.
The NUG's announcement on Monday put all rumors at rest and brought hope and optimism among many Afghans.
The nominees are:
Mr. Sher Mohammad Karimi as Defense Minister
Mr. Noor-ul-Haw Ulumo, as Interior Minister
Mr. Slahuddin Rabbani as Foreign Ministry
Mr. Ghulam Jelani Popal as Finance Minister
Mr. Ahmad Seyar Mahjur as Justice Minister
Mr. Gul Zalmai Yunusi as Education Minister
Ms. Najiba Ayoubi as Minister for Women's Affairs
Mr. Abbas Basir, Public Works Minister
Mr. Ferozuddin Feroz as Public Health Minister
Mr. Yaqoub Haidari as Agriculture Minister
Mr. Daud Saba as Minister for Mines
Mr. Barna Karimi as Minister for Communication
Mr. Nasir Ahmad Durani as Minister for Rural Rehabilitation and Development
Ms. Khatera Afghan as Minister for Higher Education
Mr. Mahmood Siaqal as Minister for Water and Energy
Mr. Saadat Narderi as Minster for Labor and Social Affairs
Mr. Alemei Balkhi as Minister for Refugees and rural Rehabilitation
Mr. Faiz Mod Osmain as Minister for Haj and Religious Affairs
Mr. Faizullah Kakar as Minister for Counter-Narcotics
Ms. Ai Sultan Khairi as Minister of Information and Culture
Mr. Qmarauddin Shinwari as Minister for Borders and Tribal Affairs
Mr. Sardar Rahmad Oghli as Economy Minister
Mr. Sardar Mohammad Rahimi as Minister for Commerce and Industry
Mr. Shah Zaman Maiwandi as Minister for Urban Development
Mr. Faizullah Zaki as Minister for Transportation
Mr. Rahmatullah Nabil as Director of NDS
Mr. Khalil Seddiq as Governor of Central Bank

---
---
Related Articles
Concerns have been raised that Afghanistan might face economic challenges post 2014. A number of analysts have accused the government
Afghan-German researchers presented their findings on Gender Responsive Budgeting, compiled over the last three months, at their first open dialogue
Speaking at the House of Representatives on Tuesday, Finance Minister Hazrat Omar Zakhilwal assured the legislators that Afghanistan will not