Afghani depreciated against dollar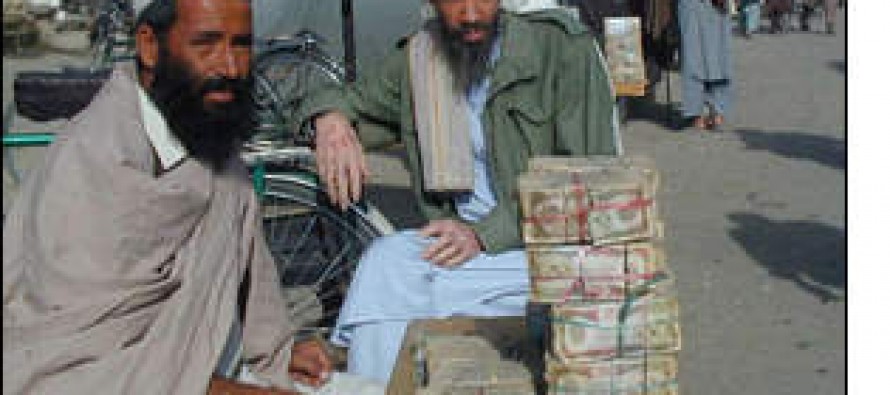 Afghani currency dipped against the US dollar during the outgoing week in Kabul.
A US dollar was worth 52.50 AFN, compared to last week's price of 51.65 AFN.
The currency depreciation was linked to a dollar shortage in the market.
Daily-use commodity prices, on the other hand, remained unchanged during the outgoing week.
A 50-kilogram bag of Brazilian sugar cost 1,800afs, a similar quantity of Pakistani rice 3,100afs and Pakistani flour 1045afs, Food Traders' Union head Haji Fazl Rahman said. Prices of most edibles remained stable.
A 5-kg tin of Momin ghee accounted for 420afs, a kilo of African black tea for 200afs and the same quantity of Indonesian green tea for 170afs.
But wholesale rates of food items varied in some parts of the capital. Nisar Ahmad, a shopkeeper in the Qala-i-Zaman Khan locality, sold a 50-kg sack of Pakistani flour for 1,150 afs, the same amount of rice for 3,800 afs and a 50-kg bag of sugar for 2,100afs.
Abdul Basir, a jeweller in the Lycee-i-Maryam neighbourhood, said one gram of Arabian gold cost 2,400afs, while the same amount of Iranian variety accounted for 2,050afs, the same as last week.
The rate of one litre of petrol and diesel each worked out at last week's level of 57afs, said a filling station owner in the Taimani Square, Siddiqullah. Liquefied gas rates also stayed stable, with a kilogram selling between 45 and 50afs.
---
---
Related Articles
According to The Washington Post, the Biden administration froze Afghan government reserves held in US bank accounts on Sunday, blocking
President Mohammad Ashraf Ghani will attend the upcoming 18th Shanghai Cooperation Organization (SCO) Summit in Qin`gdao in China on June
Commerce and Industries Minister Dr. Anwarul Haq Ahady said Afghanistan is likely to complete the accession process to the World