Afghanistan and Germany agree to support establishment of model schools for top students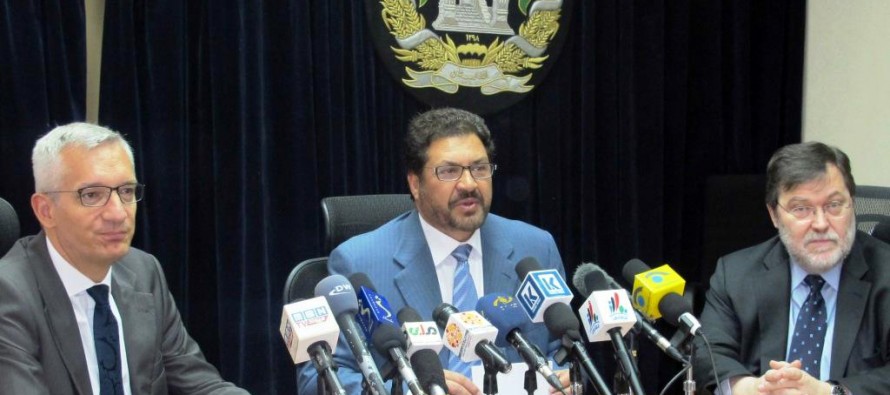 Afghanistan's Ministry of Education and Germany's Deutsche Gesellschaft for Internationale Zusammenarbeit (GIZ) sign Memorandum of Understanding on "Strengthening German-Supported Schools in Kabul". The project goal is to jointly develop a model school system aimed at highly-performing cheapest price viagra students. At the signing ceremony, the German Ambassador to Afghanistan, Martin Jäger, underlined the importance of education as a key element for development and growth and the willingness of the Federal Republic of Germany to online canadian pharmacy levitra continue its financial and political support for schools in Afghanistan.
Farooq Wardak, Afghanistan's Minister of Education; Peter Palesch, GIZ Country Director, and Wolf Plesmann, GIZ Director of Portfolio for German Public Sector Clients, met today at the Ministry of Education to sign a Memorandum of Understanding (MoU) on "Strengthening German Supported Schools in Kabul".
The idea behind the project is to deepen cooperation and improve the quality of learning and infrastructure at three public schools in Kabul: the https://wadsam.com/shop/levitra-basso-prezzo/ Amani Secondary School (AORS), the Aisha-e-Durani School (ADM) and the Lycée Jamhuriat (LJ).
Besides providing more teaching materials and new equipment, the support outlined in the MoU would include assigning German teachers to Kabul and training local Afghan teachers. The project also intends to open new model schools for top students from Kabul and other provinces.
Attending the signing ceremony, the German Ambassador Jäger said, "Promoting school education in Afghanistan has long been a major component of bilateral cooperation between canadian pharmacy with lowest generic viagra Afghanistan and Germany. The three institutions we plan to support will serve as beacons, flagships that inspire others to follow their example and to contribute to the overall advancement of the Afghan education system. This Memorandum of Understanding is an important step towards greater cooperation in this sector and in helping to maintain the reputation of these institutions for the long-term."
The project proposition to strengthen German supported schools in Kabul would be designed as a measure to help Afghanistan fulfill its National Education Strategic Plan II (NESP II). Part of the NESP II strategy involves setting up model schools in all provinces to promote education for high-performance students. The model schools would adapt innovative teaching methods and be managed in cooperation with an NGO carried by Afghan stakeholders and institutions. The project outlined in the MoU signed in Kabul would therefore ensure Afghan ownership of the schools by pursuing the following goals for the three model schools:
• Strengthening school governance
• Establishing a selection process for high-performance students
• Upgrading the school curriculum and assessment system to meet international standards
• Enabling professional teacher development and school management
• Reconstructing and renovating school buildings
• Ensuring sustainable financial autonomy of the model schools
The three schools earmarked for the model school project – the AORS, ADM and LJ – have all received aid and funding from Germany's Federal Foreign Office since 2002. All three offer students the possibility to attend German classes and gain diplomas in German.
---
---
Related Articles
The U.S. Department of State's Office of Weapons Removal and Abatement (PM/WRA) announced the winners of six competitive grants worth
Forty Turkish students have enrolled at the Kabul University to obtain their bachelors degree. Minister of Higher Education Ubaidullah Ubaid
The United States Government and the Ministry of Finance of Afghanistan signed a letter for the disbursement of $100 million