Afghanistan attends CAREC conference in Kazakhstan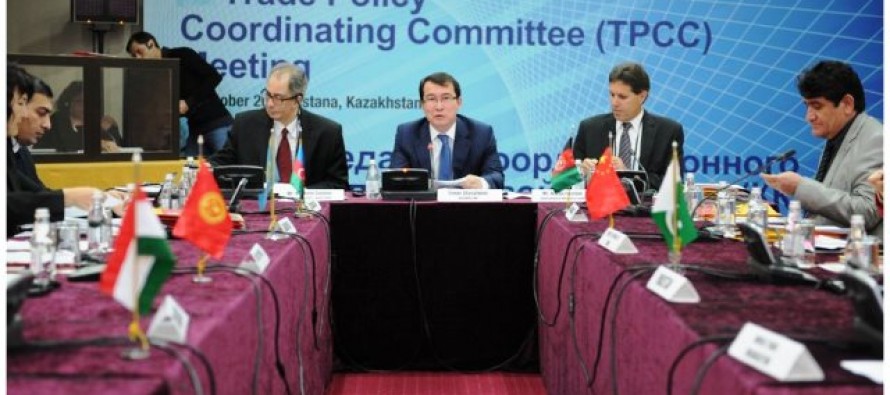 The 12th Ministerial Meeting was held in Astana, Kazakhstan, to review the progress made in Central Asia Regional Economic Cooperation (CAREC) priority areas and discuss strategies to guide the CAREC program in promoting "integrated transport and trade".
The members of the CAREC are Afghanistan, Azerbaijan, China, Kazakhstan, Kyrgyz Republic, Mongolia, Pakistan, Tajikistan, Turkmenistan, and Uzbekistan. The program, supported by the Asian Development Bank (ADB) as the secretariat, promotes regional connectivity in trade, transport, and energy to boost economic growth in the region.
The officials reflected on the result-based and action-oriented progress report on various sectors.
Transport sector coordinating committee highlighted the construction and improvement of expressways and national highways as well as progress on the rehabilitation of railways along the six CAREC transport corridors. As of September 2013, approximately 4,487 kilometers of road sections and approximately 3,190 kilometers of railways have been completed. It is expected that the remaining sections will be completed within the envisaged planning and implementation horizon.
In trade sector, CAREC members have intensified efforts to advocate corridor development and improve their customs-related risk management systems. Trade liberalization measures continue to show a positive trend, reflecting CAREC countries' commitment to simplify trade regimes.
In energy, implementation of the Energy Work Plan 2013-2015 has been initiated, including advancing made in the complex project preparation activities for the Central Asia-South Asia Energy Corridor development.
CAREC Senior Officials agreed to recommend the following for endorsement by the 12 Ministerial Conference:
1. The CAREC Transport and Trade Facilitation Strategy (TTFS) 2020
2. The Trade Policy Strategic Action Plan (TPSAP) 2013-2017
3. The preparation of a streamlined Development Effectiveness Review, based on the initial review of the results-based monitoring framework methodology, and suitbale follow up in consultation with sector coordination committees;
4. Establishment and operationalization of the CAREC Institute physical base in Urumqi, Xinjiang and Uygur Autonomous Region, PRC, and
Representing Afghanistan in the Senior Officials meeting, Mr. Abdul Razique Samadi, CEO of Da Afghanistan Breshna Sherkat, said CAREC had been one of the most effective mechanisms where important sectors such as energy, trade, trade policy and transport are discussed.
"Afghanistan has implemented many power projects funded by ADB.  Afghanistan has benefitted from energy, roads, trade reforms and custom reforms. We are thankful to ADB and all multi and bi-lateral institutions for assisting Afghanistan. " said Mr. Samadi.
He called for logistic centers to be expanded in the region and said existing corridors should not be undermined when further expansions are taking place in the region.
---
---
Related Articles
The all-girls robotics team of Afghanistan, aptly named Afghan Dreamers, has built a ventilator from parts of a Toyota car
Kabul Municipality announced a 33% increase in its revenue from last year's. Mayor Mohammad Yonus Nawandish said the revenues, projected
Afghan farmers have harvested 13 tons of saffron this year compared to last year's 10 tons, according to the Ministry