Afghanistan attends the third CWI Summit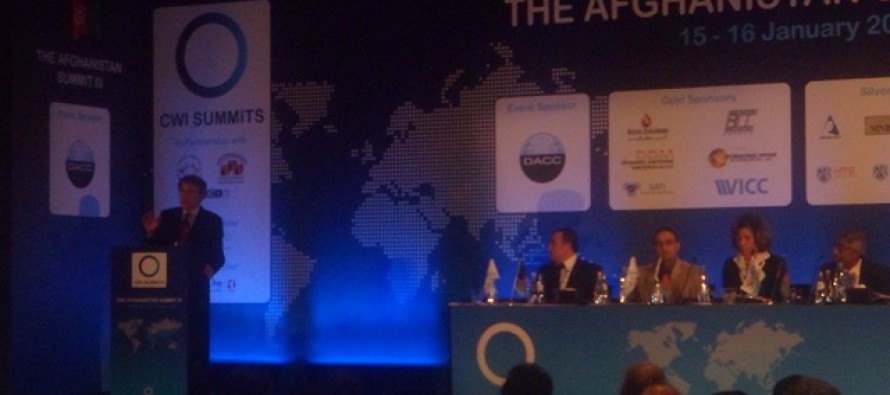 Afghanistan attended the two-day Countrywide Investment-CWI Summit which commenced on January 15, 2013 in Dubai city.
The Summit provides the platform to bring together government officials, key figures and sector leaders from military organizations, UN, donor agencies and trade associations with senior private-sector representatives to discuss the important role of the international community in aiding development efforts across Afghanistan.
Partnered with the Afghan-American Chamber of Commerce (AACC) and the Afghan Builders Association (ABA), the Summit is held for two days and serves to produces to an extremely informative, productive and fruitful Summit for the people of Afghanistan.
The senior delegation from Government of the Islamic Republic of Afghanistan expressed their optimism about the future of Afghanistan's economy and reassured that the drawdown of the foreign forces will be nothing but the beginning of a new era for Afghanistan—an era of boost in investment and growth.
Mahmood Karzai, President Hamid Karzai's brother, set the businesses' mind at rest, by reiterating that the world community will continue to stand by Afghanistan and that Afghanistan's "peace process will occur."
Mr. Karzai is an Afghan entrepreneur, CEO and Chairman of the Board for the Afghan Investment Company.
Coming from Kandahar, Mr. Karzai undertook the development of a new city in his province that was left destroyed and depopulated after the decades of war in the country. An investment of billions of dollars brought to Afghanistan the city of Aino Mina, which some Afghans refer to as "mini-Dubai".
Mr. Karzai shared with the CWI participants a video showing the various aspects of his newly launched housing project.
Commenting on the dilemma of capital outflow, Mr. Karzai said that the reasons why money is kept out of Afghanistan should be investigated.
First Vice-Chairman of the Afghanistan Chamber of Commerce and Industries (ACCI) Khan Jan Alokozay spoke on the need for domestic production to substitute imports.
He reflected on some of the achievements of Afghanistan in the education, media, and infrastructure sectors of the country's economy.
Regarding the private sector as the key driver of the economy, Mr. Alokozay termed the transition period of Afghanistan as an opportunity for the private sector to shine.
According to Mr. Alokozay, the withdrawal of the foreign forces will certainly have its impacts on Afghanistan, as Afghanistan is an aid dependent country.
"Afghanistan will be vulnerable to financial shocks [post 2014], but the private sector is coping with the challenges."
He said ACCI is optimistic about the future of Afghanistan.
"Drawdown of forces does not mean Afghanistan will be forgotten. Mining sector can be a major substitute of foreign aid."
He urged the government to increase its role in further paving the road to development for the private sector.
---
---
Related Articles
Afghanistan and Uzbekistan continue their efforts to open transit route to enable Afghan goods to be sent to other parts
As the deadline for the withdrawal of US and NATO forces draws near, Beijing is stepping up its diplomacy with
Not long ago, the 420 students of the Afghan Mena Elementary School had to study in an open lot because