Afghanistan attends workshop in Turkey on good governance in mining industry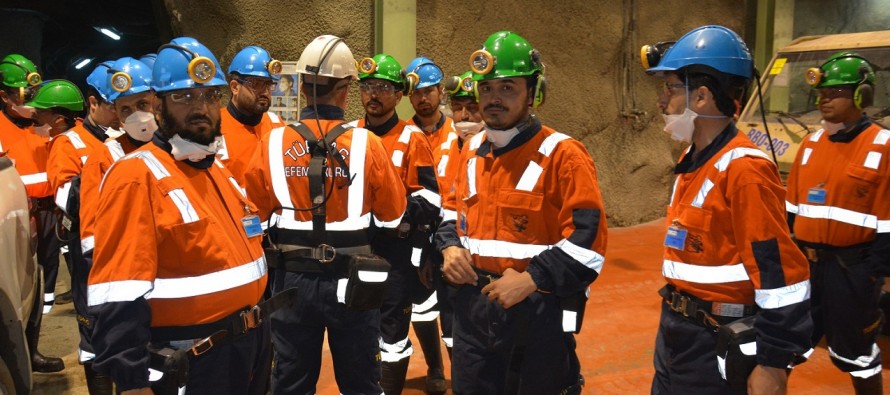 Representatives of the multi-stakeholder group (MSG) of Afghanistan's Extractive Industries Transparency Initiative (AEITI), Afghanistan's civil society, the private sector, the Afghan Ministry of Mines and Petroleum (MoMP), the Ministry of Finance (MoF) as well as the Afghan Parliament, participated in a three-day workshop in Istanbul, Turkey.
The workshop covered topics including fulfilling EITI standards, addressing legal challenges and investment barriers of the Afghan mining industry.
The activity was funded and organised by the German project "Promoting Good Governance in the Extractive Sector in Afghanistan" and the International Secretariat of EITI.
The workshop aimed at making the sector more transparent and at addressing key challenges as well as EITI requirements. During the workshop, the AEITI MSG developed a roadmap to disclose actual owners of mining companies by 2020 – one of the major EITI requirements in order for Afghanistan to become a full member in 2017.
"The mining sector represents a big economical source of the country. Unfortunately, it is not managed in a way to attract international investments although President Ashraf Ghani has indicated special interest in this sector. Improvements will not occur without fundamental reforms in the mining sector," said Member of Parliament, Ramazan Jumazada.
EITI is a global standard for improving transparency and accountability in the sectors of oil, gas and mining to which Afghanistan committed in 2010.
Only recently, President Ashraf Ghani reconfirmed his commitment to the Beneficial Ownership Disclosure of Mining Operations. The National Unity Government also committed to improving mining sector management, attract foreign investors and to comply with international EITI standards in the Afghanistan National Peace and Development Framework.
The MSG also started preparing the upcoming 5th AEITI Reconciliation Report. The report will publish the revenue status from 2014 and 2015: This includes selected private sector payments to the Government and reported governmental revenues as well as recommendations for a more transparent and efficient management of this sector.
The last AEITI report had identified several issues within the mining industry that need to be addressed before becoming a full member, namely: the loss of revenue due to uncollected taxes in the provinces, unclear information about company tax payments to government entities, incomplete company filings of financial records and contracts as well as missing tax revenues of lapis lazuli productions in governmental accounts.
All workshop participants also had the opportunity to meet Turkish Mining Authorities and to visit three mining sites (coal mine, gold mine and nickel mine) close to Izmir, Turkey.
The project "Promoting Good Governance in the Extractive Sector in Afghanistan", funded by the German Ministry of Economic Cooperation and Development (BMZ), provides strategic support to the MoMP, strengthens its line departments in line with good governance criteria and supports the Afghan Extractive Industries Transparency Initiative (AEITI). The project therefore contributes to the Afghan National Development Strategy (ANDS) and to the National Extractive Industries Excellence Program (NEIEP).
---
---
Related Articles
The Afghan Ministry of Agriculture, Irrigation and Livestock (MAIL) has received 298 agriculture machineries worth 73mn from the World Bank
Afghans living in capital Kabul are now able to order food and grocery from a curated choice of restaurants, stores
Policies to support Afghan women who work in government were reviewed at a conference held today in Kabul. Over 150